How hard is it to love yourself? For some, it is one of the most difficult things they will have to accomplish. For those who are put down and abused to love yourself is almost an impossible task. I have put together 20 positive quotes that will help you with your goal to love yourself and build your self-confidence.
It is a process to love yourself. It won't happen overnight, but it is possible. When you repeat these positive affirmation quotes daily, you will begin to see changes in the way you feel about yourself. You will see the change and your confidence soar.
Exclusive Private Facebook Group
How can we help you?
Find out more information about our
exclusive private Facebook group.
Changing your mind with positive quotes will change everything about you. You will become more healthy, stand up for yourself in kindness and walk straight and tall to become the person you have dreamed of.
I know it sounds too good, but you can do it. It is not easy. You will need to commit to daily affirmations of these positive quotes to make it happen. I know you can do this and create a new increased self-confidence within yourself.
20 Positive Quotes To Love Yourself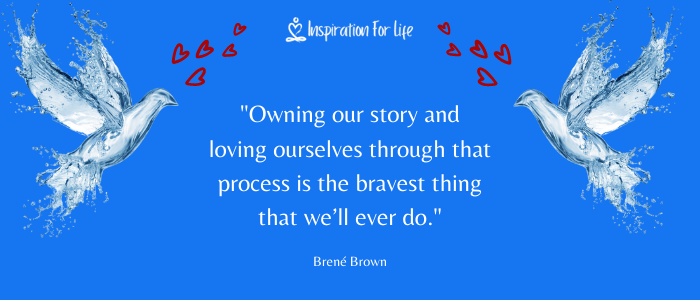 "Owning our story and loving ourselves through that process is the bravest thing that we'll ever do."

Brené Brown 
"Above all be true to yourself, and if you can not put your heart in it, take yourself out."

Hardy D. Jackson
"When you make a mistake, respond to yourself in a loving way rather than a self-shaming way."

Ellie Holcomb
"You are allowed to be both a masterpiece and a work in progress simultaneously."

Sophia Bush
"Body love is more than acceptance of self or the acceptance of the body. Body love is about self-worth in general. It's more than our physical appearance."

Mary Lambert
"When a woman becomes her own best friend life is easier."

Diane Von Furstenberg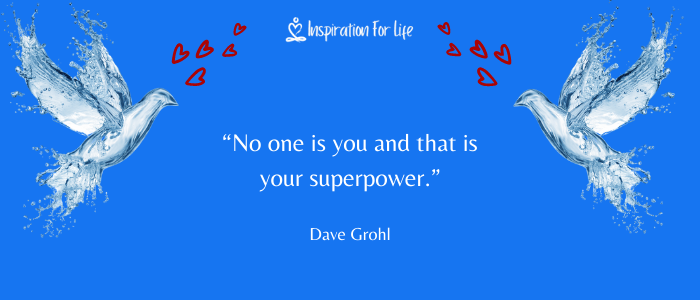 "No one is you and that is your superpower."

Dave Grohl
"You are free, you are powerful, you are good, you are love, you have value, you have a purpose. All is well."

Abraham-Hicks
"What lies behind us and what lies before us are tiny matters compared to what lies within us."

Ralph Waldo Emerson
"To fall in love with yourself is the first secret to happiness."

Robert Morley
"Be kinder to yourself. And then let your kindness flood the world."

Pema Chodron
"There's no need to be perfect to inspire others. Let others get inspired by how you deal with your imperfections."

Ziad K. Abdelnour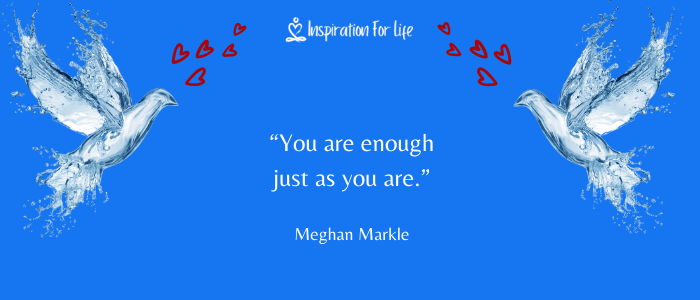 "You are enough just as you are."

Meghan Markle
"Beauty is how you feel inside, and it reflects in your eyes. It is not something physical."

Sophia Loren
"Before you find your soul mate you must first discover your soul."

Charles F. Glassman MD
"Self-care is never a selfish act–it is simply good stewardship of the only gift I have, the gift I was put on earth to offer to others."

 Parker Palmer
"Remember always that you not only have the right to be an individual, you have an obligation to be one."

Eleanor Roosevelt
"Too many people overvalue what they are not and undervalue what they are."

Malcolm S. Forbes
"Act as if what you do makes a difference. It does."

William James
"One's dignity may be assaulted, vandalized, and cruelly mocked, but it can never be taken away unless it is surrendered."

Michael J. Fox
After reading through these positive quotes, are you feeling better about yourself? It does take time to love yourself and build self-confidence. I know you can do it. I have the utmost confidence in you and yourself.
You may need more positive quotes. Here are some on self-love and ones to give you strength. Use them in the same way you used the ones above and transform your life.