How good would it feel to fall asleep and stay asleep? It sounds so comforting, especially if you suffer from insomnia or anxiety. Not to mention waking up feeling rested would help your ability to process better. Maybe a weighted blanket is an answer.
With the issues you are working through, I am sure you roll troubled thoughts over in your mind way into the night. The anxiety that comes with those thoughts compounded with a lack of sleep makes it hard to work and make good decisions. How sweet it would be to think clearly and deal with life as others do.
Exclusive Private Facebook Group
How can we help you?
Find out more information about our
exclusive private Facebook group.
I am not saying a weighted blanket is an answer but let's take a closer look so you can make an informed decision.
Quick Comparison-5 Best Weighted Blankets
What Is A Weighted Blanket?
Well, I'm glad you asked. Just what is this weighted blanket that is all the buzz now? A weighted blanket is a cover that is made heavier with glass beads or plastic pellets. It is thought that the increased weight of the blanket will assist in the treatment of anxiety, stress, and insomnia.
History Of The Weighted Blanket
Weighted blankets have not been around very long. The first person to use one was an occupational therapist, Tina Champagne, in 1999 to help her patients with mental health issues.
Many talk about 1999 as the first weighted blanket, but in 1990 Temple Grandin discovered deep pressure therapy helped with anxiety in children with autism. But it wasn't a weighted blanket that started it all; rather, it was a "hug machine" that began the weighted blankets' thought process.
The use of weighted blankets waned and waxed over the years until 2017 when John Fiorentino introduced the gravity blanket. A gravity blanket is another term for a weighted blanket
How Do Weighted Blankets Work
There are some speculations on how they work, but studies in the past have been inconclusive or lack control data to determine how well they work.
Some say you feel like you're wrapped in a big hug which mimics being cradled in the womb.
As of late 2020, I found some new studies with more conclusive evidence for adults and cancer patients on chemotherapy.
Controlled Studies On The Effectiveness Of Weighted Blankets
The American Academy of Sleep Medicine did a randomized, controlled study involving 120 male and female adults. The adults who used a weighted blanket had a 60% improvement in anxiety, fatigue, band depression using the blanket for 4 weeks.
The control group who had a blanket with chains weighing it down only had a 5.4% improvement in their symptoms.
The study was continued for 12 months with the same positive results for the true weighted blanket.
In a second study by the National Library Of Medicine, National Center For Biotechnology Information, patients receiving chemotherapy used a weighted blanket on their first or second visit to reduce chemotherapy anxiety. Findings revealed that patients with the weighted blanket exhibited less stress.
There are more studies done daily on weighted blankets. Although both studies were favorable, it is still to be determined how effective weighted blankets are.
Mayo Clinic Minute: How weighted blankets may lift anxiety
Weighted Blankets Are Different
Not all weighted blankets are alike. They come in an array of sizes and weights as well as style. When choosing a weighted blanket, there are some things to consider.
What weight to choose?
It is suggested to choose a weight that is 10% of your body weight. If you weigh 200 pounds, then you want to choose a blanket that is 20 pounds. These blankets come in 15, 20, and 25 pounds. So if you weigh 180 pounds, the suggestion is to round up to a 20-pound blanket.
It is best not to have your blanket so heavy that you can't easily turn over or move around while you have it on.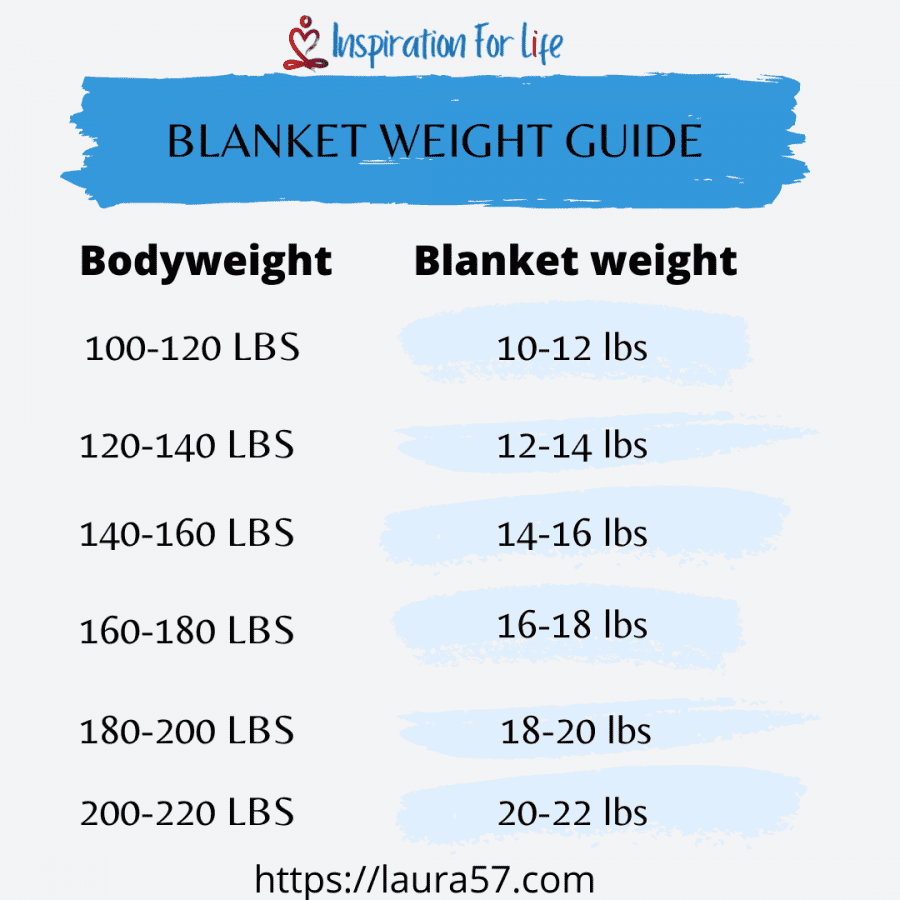 What size to choose?
You want your blanket to fit you so, don't choose one that is so large that it hangs off the side of the bed or one so small that you can't keep it on you. For example: if you have a regular size bed, a queen-size blanket would be too large.
When you share your bed with a partner, you want to take their temperature preference into account as well as yours. If you are cold and your partner tends to run hot, both of you using a cooling blanket would not work well. Weighted blankets do have the option to choose a cooling blanket with different beads for weight or plush or cotton for warmth.
What Style To Choose?
Weighted blankets come in designer style, plush styles, basic style, cotton style, and many come with washable duvet covers. We will talk about 5 of what I believe are the best styles to choose from.
Please Remember
We all want to make life better for our children. You may find a weighted blanket helps you, so you want to get one for your child. The 5 best-weighted blankets I review are not for children. There have been deaths associated with inappropriate use of weighted blankets with children because of the weight. So please be safe.
Let's Take A Deeper Dive Into The 5 Best Weighted Blankets
Gravity Cooling
Gravity has made weighted blankets since 2017. Their cooling blanket is rated one of the best in the market. A cooling blanket lets your body regulate its temperature by wicking moisture away from you with breathable material.
"SCIENTIFICALLY-PROVEN: In 2019, Gravity partnered with Sleepscore Labs and became the only weighted blanket brand to be studied by PhDs with proven results that it helps with sleep and stress: 72% of study participants reported improved sleep quality by using the Gravity Blanket 55% of study participants reported Gravity Blanket helped reduce overall stress 78%."

Gravity
Luxome Luxury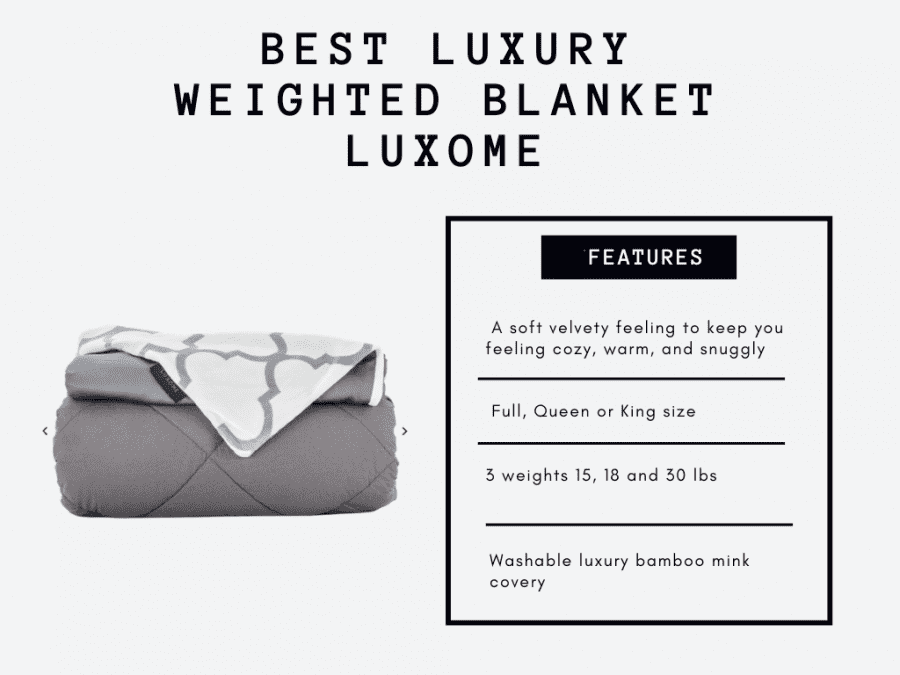 The luxury Luxcome blanket has lead-free glass beads and is constructed for a soft velvety feel to enhance that cozy, protected feeling. You can choose from many different duvet colors.

Luna Cotton
Luna's 100% Oeko-Tex Cooling Cotton is a "breathable, soft fabrics coupled with our patented airflow channels and unique glass sand." 
Velvet Napper
This blanket is one of my favorite. I love the teal color and that it is naturally weighted without fillers, so worries about shifting or changes in the weight. To me, it is a designer style, rich velvet, cozy and warm blanket.
Honeybird Evenly Distributed
Honeybird designed their blankets from scratch to give you a better night's sleep. The stitching is a diamond design pattern to distribute the weight evenly for better performance.
Why Should You Trust Me?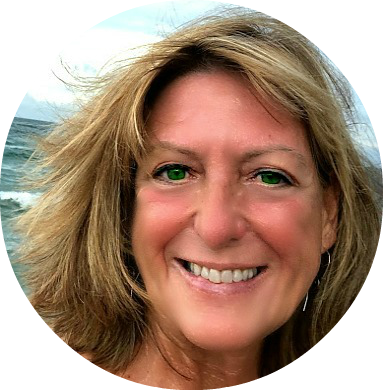 I am Laura, the founder of Inspiration For Life. Why should you trust me? Because I have been where you are today. Those long sleepless nights thinking about what I had been through and if I would ever be OK. If I had a weighted blanket to sleep back when my nights were long and my days were troublesome, I wonder if coping would have been easier. I will never know because weighted blankets were not available back then.
I have also read almost everything on the internet about weighted blankets and came up with the 5 best blankets that I believe will be a good choice. Some are a bit pricy, but the less expensive ones have been rated by consumers, and many say they do not last as long.
If you believe meditation is the key for you, look at Muse 2 as your meditation assistant.
Please let me know if your blanket makes a difference in your sleeping pattern. Are you sleeping better?