Often fitness requires an accountable partner. Someone to keep you on track and compete with. Who did the most steps or who worked out the longest or even who burned the most calories in a day. In todays age of technology it doesn't have to be a person but rather a wearable device. One like the Apple Watch 6 or The Fitbit Versa. Who will win the war of the fitness wearables?
It truly is like a war. Who has the best wearable or the best features to get your business? We are going to take a look at all of this today. But before we do I want to remind you of why we need fitness. It's not all about how buff you are or how well you compete.
Exclusive Private Facebook Group
How can we help you?
Find out more information about our
exclusive private Facebook group.
It is however one of the primary ways to care for yourself in mind, body and soul. Exercise reduces hormones such as cortisol. When cortisol levels in your body rise and stay high, it will affect your brain and your ability to cope with stress. Also exercise will increase the endorphins in your body. Endorphins are your body's natural painkillers and will elevate your mood.
Let's move on and see which wearable will be the best fit for your needs.
Quick Comparison: Apple Watch 6 Or Fitbit Versa
What Is A Wearable?
A wearable is a term used for technology devices that you can wear on your body, such as the Apple Watch Series 6 and the Fitbit Versa 3. They track fitness with technology that you can relate to and use to motivate you.
Apple Watch History
The first Apple Watch was released in September 2014 by Tim Cook, the CEO of Apple. In the beginning, it was marketed for fashion, and later, the target changed to fitness tracking.
The Apple watch was not named iWatch as the iPhone and iPad were because OMG Electronics owns the trademark "iWatch."
Fitbit History
 James Park, CEO, and Eric Friedman, CTO, founded Fitbit on March 26, 2007. In 2014 Fitbit launched a program to allow their Fitbit wearable to connect with phones per Bluetooth.
How Do The Apple Watch 6 And The Fitbit Versa 3 Compare
| Dimensions | Apple Watch6 | Fitbit Versa 3 |
| --- | --- | --- |
| Display Size | 40 mm: 1.57 inches44 mm: 1.78 inches | 1.58 inches |
| Touch Screen |  40 mm: 1.57-inch LTPO OLED Retina display w/ Force Touch44 mm: 1.78-inch LTPO OLED Retina display w/ Force Touch  | 336 x 336 pixels |
| Storage | 32GB | 4GB |
| Wireless | Bluetooth 5.0, Wi-Fi 802.11 b/g/n, NFC, LTE | Bluetooth 5.0, Wi-Fi 802.11 b/g/n, NFC |
| Blood Oxygen Sensor | Yes | Yes |
| Accelerometer | Yes | Yes |
| Gyroscope | Yes | Yes |
| Heart rate sensor | Yes | Yes |
| Water-resistant | Yes-50M | Yes-50 M |
| Battery life | Up to 18 hours | Up to 6+ days |
| Price | Check Price | Check Price |
Phone connection
Apple Watch connects with the Apple iPhone and requires phone data, while Fitbit will connect with Android and with IOS devices per a third-party Fitbit app. Fitbit does not require phone data unless connected to a phone by a third-party app.
If you are like me and like to listen to music when you workout, you can play music on your Apple Watch 6, while you can not play music with the Fitbit Versa 3. Fitbit does not have a speaker built-in. However, you can listen to music from another device while using your Fitbit.
Just one more thing to add to the phone connection. With the Apple Watch 6, you must pay around $10 a month for a data plan, depending on your carrier. Fitbit Versa 3 also offers a premium plan which is $9.99 a month. The premium plan is not required but does allow for more features.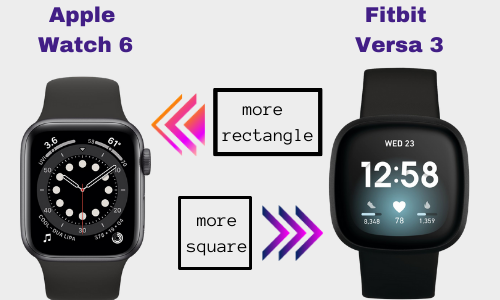 Display Size
The display size appears slightly different, with the apple watch more rectangular and the Fitbit a bit more square. The Apple Watch does come in a 40mm and a 44mm size, whereas the Fitbit Versa only comes in 1.58 inches, just a touch over 40mm.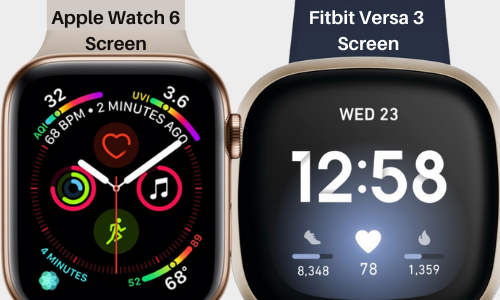 Touch Screen
Without going into a bunch of technical jargon, the Apple Watch 6 has a touch screen that never sleeps, which means that when you move your arm, your screen lights up. It also has the ability to refresh as often as every minute.
The Fitbit Versa 3 has the option to turn on "always on display," and you can swipe right to display the screen.
It appears the Apple Watch 6 has a bit more convenient options but does this affect the fitness portion of either device? We will need to continue with our review to give you the ability to make that determination for yourself.
Storage
The Apple Watch 6 has 32 GB of storage, but it actually only has 26.6 GB of storage when compared to Fitbit Versa 3. Apple uses 5.4 GB of storage for watch operation. Fitbit Versa 3 has 4 GB of storage which is not much if you plan to connect to a phone but may be sufficient for use as a fitness device only.
Fitness
Obviously, Apple Watch 6 offers more when connected to your Apple iPhone, but what features does each one offer when it comes to fitness? Since we are here to compare these 2 devices for fitness, let's get into which one has what features.
Both the Apple Watch 6 and the Fitbit Versa 3 have the same outward fitness features: Blood Oxygen Sensor, Accelerometer, Gyroscope, and Heart Rate Sensor.
Blood Oxygen Sensor-an oximeter that measures the oxygen level in your blood
Accelerometer-an electronic senor that measures your forward movement
Gyroscope-a sensor to measures the rotation and twists of your movement
Heart Rate Sensor-an LED light sensor to measure your heart rate
While the Apple Watch 6 and the Fitbit Versa 3 both have the same features, they are computed differently. The Apple Watch is designed for numerous things and fitness, while the Fitbit Versa is designed with fitness in mind. Now that is a bit confusing, to say the least.
Apple makes a wearable watch with features. Fitbit makes a wearable watch fitness device with features.
Both devices offer Oxygen sensors. The Apple Watch 6 will monitor your oxygen level when you desire. The Fitbit Versa 6 only monitors at night and does it automatically with the premium plan.
Apple Watch 6 checks your heart rate every ten minutes while awake and continuously when using an exercise app. Fitbit Versa 3 records your heart rate all the time and stores it for tracking.
Both the Apple Watch and the Fitbit Versa have the ability to take an EKG of your heart rhythm. On both, it only detects irregularities of Atrial Fibrillation and does not diagnose heart problems.
The Apple Watch 6 measures your activity by noting accelerations in your heart rate, while Fitbit Versa measures your activity by steps.
Apple has a ring system. You can visibly see the rings close as you reach your calories, exercise time, and hourly movement per day. But both devices have a reminder to move for motivation.
Apple does not allow goals for steps, but Fitbit allows you to set goals for numerous daily fitness activities.
Both the Apple Watch 6 and the Fitbit Versa 3 count calories. In reviews, the Apple Watch has been noted to be less accurate. The Fitbit Versa counts active and resting calories 24/7.
Which Device Has The Features You Need?
Which one to buy is still a difficult decision. So to help, I will list the reasons for each device. You can look at the reasons to determine which one is a good fit for you in terms of a fitness tracker.
Desire a wearable that does more than fitness
Heart rate every 10 min/day and continuous/night
Want to connect directly to a carrier
Oxygen level when desired with a press of a button
Strong motivational fitness ring with pings to stand
Activity measurement by heart rate
Want to play music from your wearable
32GB storage
When fitness is your top priority in a wearable.
24/7 heart rate monitor (premium)
An accurate count of resting and active calories
Automatically monitors oxygen at night (premium plan)
Reminders to stand and increase steps throughout the day
Activity measurement by the steps3 you take
Want to be able to set custom fitness goals
4GB storage
Summary
Both the Apple Watch 6 and the Fitbit Versa 3 are good fitness tracking wearables. But it is like a war between these 2. Many of the features are the same, but I know that one will be a better fit for you over the other. When you have options to motivate your fitness, it is always exciting.
The bottom line is, exercise is beneficial to your healing process. And to have a wearable device to motivate you helps tremendously. I love my fitness tracker. I chose the Apple Watch 6 because it fit my needs best. Which one will you choose?
More reviews with products to help you heal and grow: