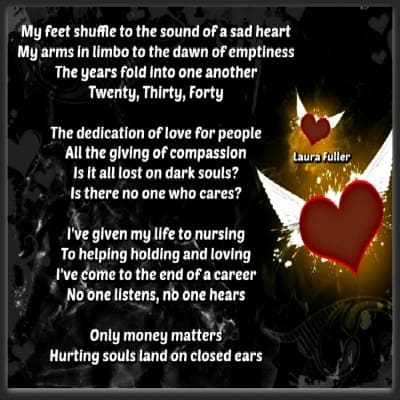 Are love and compassion lost in the medical profession? Are hospital administrators focused on finances and not on patient care?
These are grave questions, and I do not have the answer. But I do have some ideas on how the baby boomer generation who are retired or nearing retirement may feel this way.
Exclusive Private Facebook Group
How can we help you?
Find out more information about our
exclusive private Facebook group.
My Medical History
I started in nursing over 40 years ago. When I began, we cared for 54 patients as a team. Working the night shift, we had 2 RN's and four nursing technicians taking care of these 54 patients.
Nurse technicians hung all of the IVs, took all of the vital signs, and answered all of the call lights. Rn's charted on all 54 patients with 2 or 3 handwritten sentences in a binder labeled with the patient name. The RN' directed the care of each patient and the work of each technician.
Each unit sterilized their instruments and cared for everything except drawing blood and running lab tests.
We did not give meds through the vein because we didn't know it was possible. We gave all medications by a shot in the muscle.
There were no beeping of machines and no noisy medication pumps.
I began my medical career in 1975. At that time, we did not have Intensive Care Units or specialized units or computers. All of the care we provided was strictly hands-on.
Changes In The Medical World
Significant changes took place in the late '70s and into the '80s. We opened our first ICU and started using monitors.
The focus was on improvement, making money, and keeping people alive.
I retired a year ago. At the time of retirement, I was concerned that nurses coming into the profession no longer care about the patient. I saw hospitals more concerned with making money rather than saving lives.
The threat of lawsuits was always at the forefront of everyone's mind and dictated the type of care given to each patient.
My history was in caring for patients and not a machine. I worried about where the face of the medical profession was going.
More Time To Think
After I retired, I had more time to think without the constant barrage of overwork and no time to care for an individual. I thought back on what I had seen and the changes that have taken place.
The development of equipment to care for the sick is good, but equipment and machines do not have the human touch. The need for a higher incoming revenue versus a higher debt took precedence.
Hospitals had to stay open, pay their bills, and pay for new equipment. The government and the insurance companies no longer offered assistance as they did back in the early 70s.
The introduction of HMOs (Health Maintenance Organizations) started in 1973, but the implementation was active in 1978. We now had the government dictating the care each patient received.
The medical world was changing. Hospital administration and the medical profession had to change with it or die.
Are Love And Compassion Lost?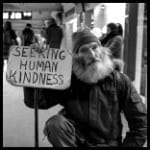 As the years passed by, and I continued as a registered nurse, I began to feel like the need for more money replaced compassion and love. Insurance and government assistance paid less for treatment, and equipment costs soared.
Gone were the day of bedside care and talking to the patient eye to eye. Instead, monitors and machines told us how our patients were progressing. We focused on what the monitors told us, and rarely did we look the patient in the eye when we talked.
Then along came computers into the world of medicine. Have you sat in a physician's office or an ER with your caregiver looking at the computer the whole time? Have you wondered if that person saw you?
It is this type of care that made me ask if love and compassion are lost. Have we forgotten who the patient is? Are we so focused on technology that we can't talk to the person in front of us?
Personal Touch
One night after I got off work in the ER, I wrote this poem on my way home. I felt my heart breaking with the realization that we don't care for people anymore. We don't touch each other unless it is necessary.
As a nurse, when was the last time you walked to the bedside and put your hand on the patient without performing a task?
Have you lost that personal touch because of computers and monitors? Or is it because of a decrease in the staff that provides the care? Nursing jobs are cut daily so the hospitals can pay their bills.
Increasing Work Load
Nurses are expected to care for eight patients on a med-surge unit at one time. And in the ER, they are caring for five
or more critical people at one time. You have to set our priorities to give the care to the ones you have to keep alive.
The less critical patients sit and wait for hours in an ER for the medical professional to have time to read their tests and diagnose the issues.
The medical field has grown into a corporate world, and that corporate world is all about making money. So little focus is on caring for the patient with compassion.
Is a corporate world really what is needed? Or is the act of unconditional love the most crucial part of our focus?
It Is Not You!
I believe the act of love is lost, but it is not the nurses and direct patient care personnel that has forced this issue. It is a result of technology, government, and the need for the administration to find a way to pay the bills.
The highest population of caregivers either are or will be nearing retirement soon. They are the role models for compassion. We became nurses to help people who needed us.
Today young nurses are required to accomplish so much in a short time that they can not develop the type of unconditional love that so many people need. I am not blaming the new nurses or administration.
Money, Power, Manipulate and Misconstrue
The World Of Technology
I am, however, blaming the world we live in for allowing technology to take over and take away the love we have in our hearts.
I do understand it is essential to make money to keep up with modern technology to help others. It is more important to care for and love others. No one can heal without love. When we are sick, we have to know someone else values their life.
I have given compassion and love to many people over the years. Because of the way I was taught to do nursing, I tried to incorporate love and compassion into the new medical world of technology.
I am Guilty
I am guilty of looking at the younger generation as uncaring. I now see this is not true. The younger generation of nurses has to adapt to the demands of medicine. They are the ones who are expected to do everything perfectly.
Younger nurses are incredible in the way they split themselves into a thousand pieces. When was the last time you tried to make everyone happy at the same time?
You, the generation who picks up where I left off, are expected to provide love and compassion in a split second, look into the patient's eye, and at the monitors all at the same time. Patients put their trust in you, and you hold their lives in your hands.
You, as nurses and patient caregivers, keep people alive, make their families happy, ensure that administration can pay their bills, and are suppose to go home feeling like a job well done.
I commend you for your strength because you will never go home knowing everyone is happy, and you have completed all of your work. It is an impossible task.
So instead, you go home with a feeling of defeat and guilt. You tried, but you failed to keep everyone happy.
Love and compassion are not lost. It is in your hearts. You keep going no matter how many demands are expected or how much you feel like you have failed.
Unconditional Love Is Alive
You still love others unconditionally, although it may not show on your face. You are forced to hide your emotions and live in a world of denial. If you don't, you will not make it home to care for you and your families.
I know you will continue to strive to love and care for each individual to the best of your ability. I know you will fight for the life of others. And on those days and nights when it appears bleak, I know you strive to do what is right and good and kind.
Love and compassion are not lost, but in the medical world of technology, it is hiding inside the walls of money and progress. Let your light shine into the darkness and show your heart to those who need you.