A helping hand is such a good thing. You want to help others and be there when someone needs you. It has to be the decent thing to do! But is it an act of kindness?
Jessie was an excellent young man. He was doing well in advertising and was moving up in the world. On the outside, it looked like he had it all together.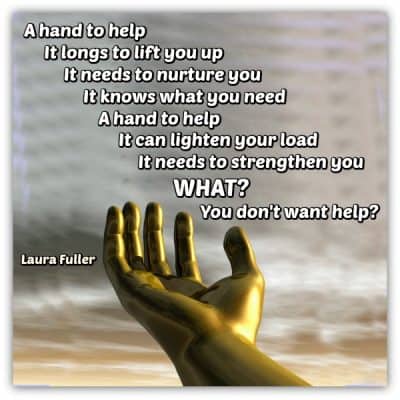 Exclusive Private Facebook Group
How can we help you?
Find out more information about our
exclusive private Facebook group.
But on the inside, he had a dark secret. He loved to gamble. It started at the casino. He would take a few of his extra earnings and go gamble on the weekends. Often, he would lose all of his money. But occasionally he would win $1000 with the $100 he took to spend.
The desire to win got stronger. Jessie knew he had lost well over a $1000 but if he could win just one time he could win again. So, he started taking larger amounts of money with him to the casino.
Then he started betting on football games and horse races. His losses became extraordinary, but he still won occasionally. The winning would push him forward to bet higher and higher. Soon Jessie couldn't buy groceries. Then he couldn't pay his rent.
When Jessie was about to lose everything, he had worked for he decided to get help. He started going to gamblers anonymous and put his name on the Problem Gambling List. He was on his way to recovery.
Ava had done well for herself over the past 20 years. She worked as an executive secretary at the same advertising firm that Jessie did. She wasn't rich but had saved her money and put away a nice saving.
Ava's biggest problem was wanting to help everyone that she thought needed help. She had become friends with Jessie over the past two years. Jessie had confided in her. He was getting help now, but his debts were outrageous from his gambling.
Ava was so proud of Jessie. Jessie was so proud of himself. But Ava wanted to make it easier for Jessie since he was trying to help himself. She offered to take her savings and pay part of his debts off.
Jessie became very angry. He didn't want her help and was doing well and wanted to take care of himself. Jessie knew it would take a long time, but he could eventually heal and also pay off his debts.
Ava was hurt. She just wanted to help him. Why was he so angry just because she offered to help him? His anger made no sense to her. Wasn't this a good and kind thing to do?
Situations like this are difficult. Jessie wanted to heal on his own and is using Ava as a sounding board and a friend.
Ava had grown to think of Jessie as a son and wanted to lighten his load. By offering to help him, she has told Jessie that she didn't think he can do it without her help.
Are you like Ava? Do you want to help others and desire nothing in return? Often you forget to ask if they want help. You just think everyone would want your kindness. Your wonderful jester comes straight from your heart.
Lessons like these are hard to learn. There are people in this world who want to take care of themselves without the help of a friend. They are like Jessie. They know they can only heal if they correct the situation. But someone comes along who thinks they know a better way to help them.
This person is called an enabler. Like Ava, they don't think about how their help may not be wanted or how it will affect the person who they try to help. They just believe that helping another no matter how is the noble thing to do.
Next time you want to help another stop and ask yourself if you are helping. Take a chance to ask the other person if they want help and what is the best way for you to help them. It may surprise you when they say, for you to be their friend and listen is all they need.
Are You Really Helping, is fiction? The Places, characters, and names, are the author's imagination or are used fictitiously. Any resemblance to actual events, locales, or persons, living or dead, is entirely coincidental.