Our heart is the lifeblood of our body. It pumps blood to our organs with oxygen to reach our fibers. Our heart allows us to breathe, walk and talk.
But what else does our heart do? We use our heart to convey emotions such as love for another and in phrases like the beating heart of the universe.
Exclusive Private Facebook Group
How can we help you?
Find out more information about our
exclusive private Facebook group.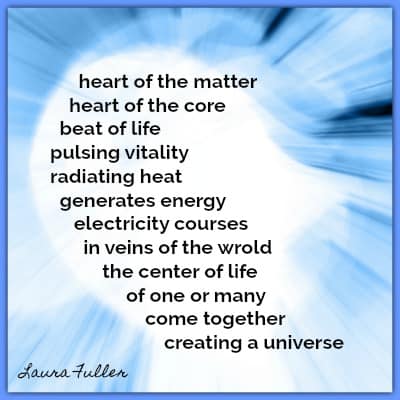 When you find new love, you voice your emotions in terms of the heart.
My heart beats for you.
Our hearts are entwined.
Your love makes my heart race.
Does love have anything to do with the heart that is an organ in our chest? And if not then why do we all use the heart to describe emotions?
Our heart is a symbol of life which feeds the body and nourishes the soul. Our heart supports our body and gives it life. Because of this life, we have emotions and feelings.
Real thoughts for this post.
A heart is in every part of the universe. Because it is a life-saving organ, it is also a symbol of the type of life we live.
My heart aches for you.
The beating of my heart is lonely.
All positive and negative references to the heart are representative of the emotions we can generate because of a life supported by a pumping organ called the heart.
A community
I am a member of a platform named Wealthy Affiliate. It is where I host this blog and where my lifeblood for writing is stored. Wealthy Affiliate has a whole community of like-minded people within the walls of a structured internet business platform.
Today while I was reading some of the postings of other members, I read one written by a man who calls himself Twack. He was sharing his highs and lows for the week. Twack referred to the community as a beating pulse.
I started thinking about this statement. My mind would not stop with the possibilities of how we see our heart and our life beating all around us.
My response to Twack's post
Wealthy Affiliate is a beating pulse of energy that is fueled by imagination and overwhelming emotions all wrapped up in a world of exposure.
The tone for the energy is set by each one of us. If we tap into that energy and choose to make it a positive force there is nothing we can't do.
Positive energy is what a super affiliate challenge represents. Each one of us collectively creates a community for learning and growing. We the members are putting our energy into words for the world to see.
The beauty of this is we can lean on each other to lay the foundation for our individual accomplishment.
The world we all live in is no different than what I have said about Wealthy Affiliate. Our universe is not the earth or a planet. It is each human being who forms an alliance in groups or communities. If 100 people walk into a room, an association will not develop unless they have a reason that pulls them together.
A loner
Let's say you are a person who doesn't like to communicate with others, so you keep to yourself all the time. The only one you have to rely on is you. You have no one to lean on or share experiences. What is going to happen to you?
I know if you are a person who is a loner you think you are better off by yourself. You are comfortable and don't have to deal with the emotions of others. You believe it is peaceful. Your heart is still beating and pumping lifeblood through and around your body.
You may think you are fine, but you can't grow living like this. We develop and improve ourselves by learning from others.
It takes a group of people with one beating heart to move the universe and brainstorm new ideas to improve. OK so maybe you don't want to move the world, but it still takes that group to lean on each other and form a cohesive union.
New scenario
Let me put this a different way. If a baby is born and then placed in a room away from all stimulation and all other humans that baby will not learn.
He/she will not learn to talk or how to properly eat or how to love another. They may learn the essential body functions like walking and making noise with their voice, but those things will not cultivate unless they are around other people.
You and I can not emotionally survive unless we participate in the world.
It is the contribution of each one of us in a community or group that forms the atmosphere of growth.
We are the heartbeat
Each one of us is a part of the heartbeat that keeps others going. Collectively we are the energy and electricity that fuels forward movement.
We have to come together in love in this vast universe. If we can say, we have a heart for another. Or a heart is pulsating within a group of people then we can all begin to agree to disagree and stop the hatred.
It is the lifeblood of the heart that is the center core pulling everyone to a middle ground. We are the heartbeat that can send love and forgiveness to the world.
Just because there are differences and disagreements does not give any of us the right to hate one another.
Outside the box
So today think outside the box of your heart. We are all individuals, but we were created to interact and work together.
Transforming our minds into a positive love machine is vital. Yes, this does sound a bit like the '70s. And no that is not what I am referring to nor am I talking about forming communes
I am however talking about love. The kind of love that comes from our hearts that we can use as an example to the world. We need to feel the life-giving, heart pulsating oxygen in every walk of our lives. We need to present an atmosphere conducive to learning and growing.
You may also enjoy;
Abstract Acrylic Painting-The Colors Of Life
Be the example
You are an example for the world. What each one of you puts forth in love and collectively delivers to the world can begin an avalanche of entwined hearts and end the hatred in this world.
I know this is a simplistic view of what we can accomplish. But if I went into depth, this post would be 4000 words long. It would have to speak of wars, hatred, attempts at goodness, blame, and many more subjects.
Showing love and pulling together needs to simplistic. I believe it is because we have complicated the heartbeat of the world which is one of the tiny reasons we have not achieved a united universe.
It all starts with you and me.
Do you think we can strive for world peace? Or maybe a cohesive bond where we can all learn to grow?
I would love to hear your views on this subject. Please leave your comments in the comment section below, and I will be back with you very shortly.