I recently visited friends in Montana. My friend told me that the suicide rate in Montana is the highest of all 50states. Death of depression was all around us. Montana is so beautiful that I had a hard time believing this statement.
Looking out the window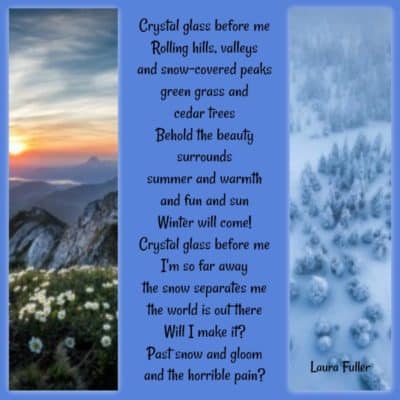 One morning I woke early, I sat in her living room. It has glass all around, and the beauty beyond those windows is extraordinary. The grass was green. The hills and mountains extended forever. And the sky never ended.
It was peaceful, and the closest neighbor was a mile or more away. It was the dream of every person on earth.
As I sat in that window, I wondered what it must be like in Montana in the winter. I bet the snow is a wonder to behold. But I also believe the rate of depression in Montana increases in the winter time.
The summers are short and the winter days are dark and long. The average annual snowfall is 62 inches which could be the dream of everyone who loves to snow ski.
I do not ski, and I do not enjoy the cold and snow. So, to live in a state with this much snow is not a dream of mine.
Seasonal Affective Disorder
One of the reasons I do not like cold and snow is because I have Seasonal Affective Disorder (SAD) or better known as winter depression. When the winter days shorten, and the sun is farther from the earth, I get depressed. I need long days, lots of vitamin D and the sun close to the planet to produce serotonin in my brain.
In the winter months in the state, I live in I take an antidepressant.
In this year of 2018 antidepressants are more acceptable. It was not that long ago I could not comfortably tell anyone that I get depressed in the winter. Depression has carried a stigma, and people thought you were weak if you talked about how you felt. Many people are not as bold as I and not comfortable telling anyone about their depression.
Suicide
According to an article by the Nate Chute Foundation:
Suicide deaths and attempts are epidemic in Montana. Youth Suicide rates are nearly double the national average. Montana has ranked in the top five for suicide rates in the nation for the past forty years.
Access to lethal means (firearms), alcohol, a sense of being a burden, social isolation, underlying mental illness and a societal stigma against depression, all contribute to the high rate of youth suicide in Montana.
I have never had suicide ideation. I have a very supportive husband and take my medication during the winter months.
But many people are not as fortunate as I am. They have nowhere to turn. They have very little knowledge about depression or the medications that can help them. And they may not have the finances to afford the help they need.
Sadness creeps in
Depression creeps up on a person. It first starts as anger where something is wrong with everything. If a person is not aware of this, they may attempt to self-medicate. In a state like Montana, there is very little to do in the winter.  A lot of people will spend time with friends drinking. They may be self-medicating with alcohol.
Alcohol perpetuates the depression, and it deepens. You can not stop depression without help.
It is a severe heartfelt pain deep inside of you that wrenches your soul. It convinces you that you are not worthy and the world would be better off without you around.
The pain becomes so intense that all you can think about is to end it all and stop your pain and worthless exitance.
It is stated so well by Kay Redfield Jamison, Ph.D.
"Suicide is a particularly awful way to die: the mental suffering leading up to it is usually prolonged, intense, and unpalliated. There is no morphine equivalent to ease the acute pain, and death not uncommonly is violent and grisly. The suffering of the suicidal is private and inexpressible, leaving family members, friends, and colleagues to deal with an almost unfathomable kind of loss, as well as guilt. Suicide carries in its aftermath a level of confusion and devastation that is, for the most part, beyond description.
Kay Redfield Jamison, Ph.D.
Professor of Psychiatry
Johns Hopkins University
"Night Falls Fast:
understanding suicide", pg. 24
Suicide is a problem for all of us
Suicide is not just a problem for the mental health world. It is a problem for all of us. I am writing to help at least one of you see that talking about depression is acceptable. Asking for help is necessary.
Your family will be devastated and lost without you. The thoughts of unworthiness and believing the world is better without you are false. Make a call. Don't let the darkness of loneliness surround you.
Don't sit in that glass tower looking out over the world feeling isolated. Reach out to someone, anyone. Your life is important. You are worthy and capable of such amazing accomplishments. Set your mind to live and seek help. If you don't do it for you, do it for those of us who care about your life.
If you have questions or I can be of assistance to you, please leave a comment. Reach out.