You peek outside to see a gorgeous sunny afternoon. The sun is shining bright, you are elated, and a big smile crosses your face. Happiness just comes naturally to you today.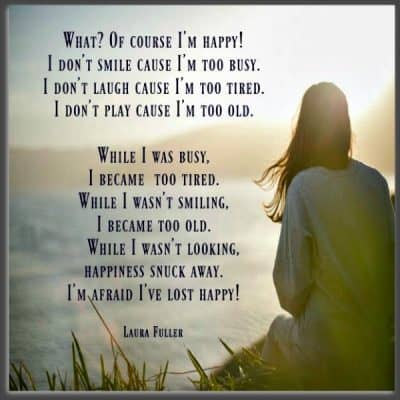 Maybe happiness doesn't always come easily to you. Has happiness ever snuck away from you and you didn't even notice? Were you tooling along smiling when one day you woke up and the smile was gone?
Exclusive Private Facebook Group
How can we help you?
Find out more information about our
exclusive private Facebook group.
Did I lose my Happy?
Did I lose my happy? I began to ask myself this question. I didn't even realize I could misplace my happy. I always pride myself on being in control of my life. I know when I am happy and when I am not!
Or did I know?
It was a time in my life when everything was going right. I loved what I was doing. I married a fantastic man. I had a close relationship with my son. I was a grandma.
I had always dreamed of being a grandma because I could feed my granddaughters ice cream, spoil them and send them back to mom and dad. They are such gorgeous babies.  It was a life I had dreamt of having.
Work
I knew my work life was hard. I worked in a large emergency room. The nursing staff was dwindling, and the patients were more demanding than ever before. I couldn't give the type of high-quality care I once could.  I was unhappy and did not realize it.
One day, unexpectedly I had to resign from my position at work. It all happened so fast. I had a 2-week vacation for an Alaskan cruise coming up in 8 weeks. I had requested this time off a year earlier. When the time came close to my leave date, My boss informed me that I might not be granted my time off.
An Alaskan cruise is very expensive and was scheduled and paid for in full. I could not cancel this vacation. I had to
resign.
A new job just fell into my lap, so I put in my 4-week resignation. It was a sad day when I had to leave the people I loved. I was grieving. But as the day came closer for me to move on, I noticed my smile coming back. I was beginning to laugh at random things again. I walked with a lighter step, and the sun seemed to shine brighter.
What? Could I have been that unhappy and not noticed? I was!
Stopped laughing
Have you had times in your life when you stopped laughing, and your smile was not present? Did you start feeling older than your years? Or maybe you were tired all the time and getting up to face your day was a chore.
Your focus in life was to make it one moment at a time. You had no desire to see ahead into your future. Your goals for the future didn't exist.
Then one day unexpectedly something changed, and you noticed a burden lifted off of your chest. For you, it may be family dynamics or work or a relationship. Regardless of the reason you suddenly realized you were unhappy and asked yourself "Did I lose my happy"
My suggestion to you and one I will also follow is to keep in touch with your inner feelings. I was in denial because I didn't want to believe I had lost touch with my emotions.
As the poem above says, If you notice your smile has disappeared or you rarely laugh or you don't have fun because you are too exhausted. No laughter, no smile and exhausted are all signs that you are unhappy. It does sound simplistic when stated like that.
Try to think back was there or is there a time when you moved from one moment to the next without the time to think. You went through the motions without feeling your surroundings. You lost time because everything was moving so fast.
Poem
You woke up one morning with the sun no longer shining, and your smile had faded. You may have lost your happy. Happy is that feeling inside you of contentment and well-being. Your enthusiasm for life is no longer present.
If you think;
while you were busy
you became too tired
while you weren't smiling
you became too old
while you weren't looking
happiness snuck away
Are you afraid, You lost your happy?
Don't get so busy in life that when someone says to you "you seem unhappy." And your response is, "What, Of course, I'm happy!"
Please feel free to leave comments below. I love to hear when you have had these feelings and how it worked out for you. I am here to assist you in any way I can.