Funny Poems are so interesting. Just where do people come up with these thoughts? It takes a vivid imagination to write funny, cute poems that will brighten your day and make you chuckle.
The poems I chose to share with you are not words to make you laugh from the belly. But they will make you chuckle. Every one of these poems put a smile on my face and lifted my mood.
Exclusive Private Facebook Group
How can we help you?
Find out more information about our
exclusive private Facebook group.
Read a few and see if these funny, cute poems don't do the same for you. Let me know if you get a chuckle because I know I did.
Funny Poems To Make You Chuckle
Ok ready to enjoy yourself? Let's get rolling.
Do You Carrot All for Me?
Unknown
Do you carrot all for me?
My heart beets for you,
With your turnip nose
And your radish face,
You are a peach.
If we cantaloupe,
Lettuce marry:
Weed make a swell pear.

Monosyllabics
Laura E. Richards
The black cat sat
In the fat man's hat;
"Oh, dear!" the fat man said.
"May the great gray bat
Catch the bad black cat
Who has left me no hat
For my head!"
A large red cow
Tried to make a bow,
But did not know how,
They say.
For her legs got mixed,
And her horns got fixed,
And her tail would get
In her way.
A sad, thin ape
Bought some wide white tape
To trim a new cape
For his niece;
But a bold buff calf,
With a loud, rude laugh,
Bit off one whole half
For his geese.

The Bashful Earthquake
Oliver Herford
The Earthquake rumbled
And mumbled
And grumbled;
And then he bumped,
And everything tumbled—
Bumpyty-thump!
Thumpyty-bump!—
Houses and palaces all in a lump!
"Oh, what a crash!
Oh, what a smash!
How could I ever be so rash?"
The Earthquake cried.
"What under the sun
Have I gone and done?
I never before was so mortified!"
Then away he fled,
And groaned as he sped:
"This comes of not looking before I tread."
A Word To Husbands
Ogden Nash
To keep your marriage brimming
  With love in the loving cup,
  Whenever you're wrong, admit it;
  Whenever you're right, shut up.

Messy Room
Shel Silverstein
Whosever room this is should be ashamed!
His underwear is hanging on the lamp.
His raincoat is there in the overstuffed chair,
And the chair is becoming quite mucky and damp.
His workbook is wedged in the window,
His sweater's been thrown on the floor.
His scarf and one ski are beneath the TV,
And his pants have been carelessly hung on the door.
His books are all jammed in the closet,
His vest has been left in the hall.
A lizard named Ed is asleep in his bed,
And his smelly old sock has been stuck to the wall.
Whosever room this is should be ashamed!
Donald or Robert or Willie or–
Huh? You say it's mine? Oh, dear,
I knew it looked familiar!

A Lovely Hand
Anonymous
Last night I held a lovely hand,
It was so small and neat,
I thought my heart with joy would burst
So wild was every beat.
No other hand unto my heart
Could greater pleasure bring
Than the one so dear I held last night.
Four Aces and a King
Funny Looking
Alan Balter
At the hospital on the day of my birth
I'm told I looked strange for what it's worth
Doc didn't whack my rump like he did to others
Nope, I looked so funny he slapped my mother
So yeah, I wasn't a handsome guy
Mom said my face could make onions cry
Dad took me to the zoo, and a girl made a crack
"How nice of that man to bring the monkey back"
Once I got sick with the Asian flu
I needed some medicine like other kids do
The doctor was hardly a humanitarian
When he suggested I visit a veterinarian
Being quite truthful; indeed brutally frank
They turn off the camera when I go to a bank
The first time I visited a psychiatrist—Ouch!
She insisted I lie face down on the couch
But, I made it to college and earned a bachelor's degree
Then completed a Master's and Ph.D
I'm the owner and president of a large company
Where lots of good looking people work for me
So if you don't like the image you see in your mirror
Here's a message that couldn't be any clearer
Don't worry young people; just hit the books
'Cause what you know gets you further than how you look.

Daddy Fell into the Pond
Alfred Noyes
Everyone grumbled. The sky was grey.
We had nothing to do and nothing to say.
We were nearing the end of a dismal day,
And then there seemed to be nothing beyond,
Then
Daddy fell into the pond!
And everyone's face grew merry and bright,
And Timothy danced for sheer delight.
"Give me the camera, quick, oh quick!
He's crawling out of the duckweed!" Click!
Then the gardener suddenly slapped his knee,
And doubled up, shaking silently,
And the ducks all quacked as if they were daft,
And it sounded as if the old drake laughed.
Oh, there wasn't a thing that didn't respond
When
Daddy Fell into the pond!

Class Reunion
Jim C. Carpenter
I read an ad in the paper one day
In the Dallas Morning News
All about my class reunion
In a town near Santa Cruz
I tried to decide if I should go
To meet my friends and peers
And see how classmates from the past
Had aged in all these years
I finally resolved that I should go
And see what I could see
And meet my friends from the senior class
Of nineteen fifty-three
I rented a tux and a black toupee
Then brushed my shoes and hair
I trimmed my mustache and my beard
And changed my under wear
I emptied the bottle of after shave
And rented a limousine
I brushed my teeth with Ultra-Bright
Then gargled some listerine
I soon arrived in splendid form
With a flower on my chest
Sporting a rented diamond ring
And smelling my very best
Now I was dressed in the finest garb
Like a monarch at a feast
When I discovered that no one there
Seemed familiar in the least
Well not a soul remembered me
And my heart dropped to the floor
When I remembered that I was in
The class of fifty-four
How to Paint A Wall
Joanna Fuchs
While I went off to work one day,
She decided to paint the wall.
And when I came back home that night,
She was curled into a ball.
Her eyes were closed, she was breathing hard,
Her hair was very wet.
From her head to the tips of her pretty toes,
She was covered all in sweat.
She was wrapped in a jacket made of down,
With a fur coat on top of that.
The wall was glowing with new, fresh paint;
On the floor, the paint can sat.
"Sweetheart!" I cried, with a worried look,
"Are you all right, my dear?"
She lazily opened her lovely eyes,
And smiled from ear to ear.
"I knew I could do it," she said with a grin;
"I followed the paint can notes.
It clearly said 'For best results,
Be sure to put on two coats.'"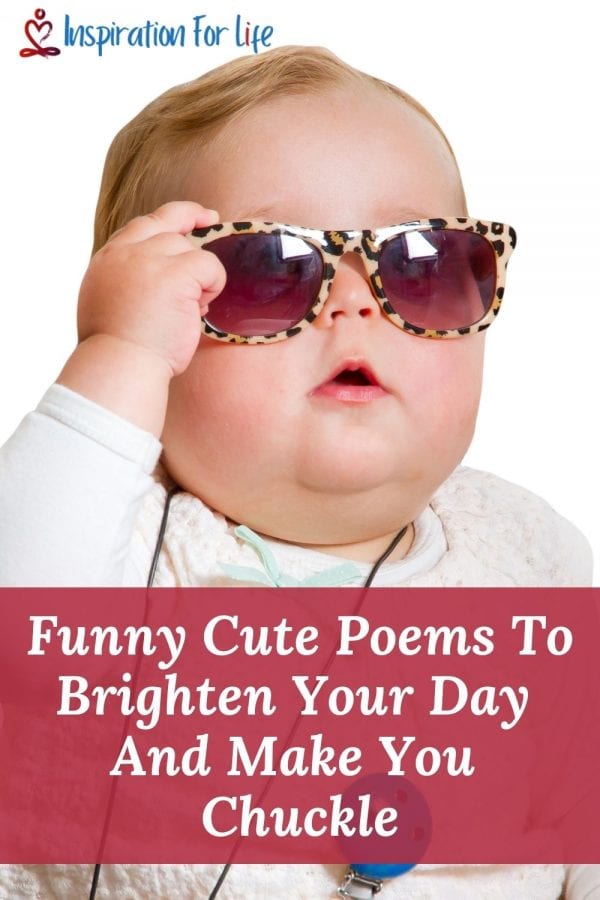 I do hope you enjoyed these heartwarming, funny, cute poems as I did. Did you chuckle just a bit? I know I chuckled more than a bit. The witty words each poet wrote did brighten my day and gave me a chuckle.
I want to offer you poems about love for the poetry lovers, Amanda Gorman's "The Hill We Climb" and Poems by Maya Angelou.