The younger days are oh so sweet. Do you ever sit and think about how it was back then. How young you looked or what you did when you were in your 20s? Do you think about the activities we were able to perform? Summersaults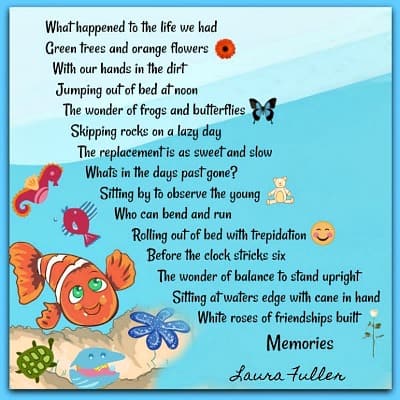 and cartwheels, running in tall wet grass and swimming in lakes?
Memories
I do think about the years gone past and the memories. I think about the times when I could sit cross-legged or run after a softball. But to be honest, I don't think about that very often. But once in a while when I can't run across the street or sit with my legs tucked under me, I'll have a fleeting thought.
Exclusive Private Facebook Group
How can we help you?
Find out more information about our
exclusive private Facebook group.
Where I am today is such a fantastic time even though I can't sit cross-legged anymore. I can't run much at all or jump rope like I use to do. But those are things that were. They were right then but not sought after now.
I am happy with the road I wander down now. This road boasts wisdom and lazy days in the shade. I have memories to rely on now: some good and some not as good. But today I can choose to walk away from regret and want to remember the good times.
Elderly
I have not reached my 70's or 80's yet. I see so many who have. The elderly may live at home after the loss of a loved partner or reside in a nursing home. They are sad and lonely.
Do they mourn what they use to have? They don't know how to embrace what can be exciting about today. They hang onto what they use to have instead of looking at the brighter side of what they have now.
Declining health
They don't move as fast as they use to and their body has changed with time. Their body has developed so many aches and pains that their mind is forced to think about declining health.
They may have high cholesterol, high blood pressure, diabetes or heart disease. As people age, they may worry about how long they have to live or wonder how their days will end. They have anxious moments of fear for what is to come. So many tend to focus on their health.
Don't get me wrong. As you age, your health is an issue. But to use this as the center of attention in your day is unhealthy. To get the help you need and then move on with your day is more functional.
What is next
Often the elderly have raised their kids, and their grandkids are at the age of developing a life of their own. They have free time on their hands and need to fill it, so they dwell on what is to come and the fear of the unknown.
So many sit in a comfortable chair wondering what today will bring. When night comes, they are still in that same chair thinking how long the day was. Life moves much slower. The days are so long and lonely and depressing. They dread going to sleep at night because the nights are oh so long.
Depressed
I see so many older and senior men and women who feel they have nothing to live for anymore. I do understand that depression increases in the elderly but doing nothing only increases this sadness.
What do you have?
They have life itself, what God has given them and the memories of years past. Quite often they can't remember the good times. They need you to help them build new memories. For someone who is in a nursing home or home alone after the loss of their partner, you are everything.
As a younger person, you can change the life of an older person just by going to visit. You don't have to love the elderly or want to make the world a better place. You only need to give a few minutes of your time to lift the spirits of another.
Give time
When you spend 20 min with an older person, it feels like days to them. You build new memories for them to hang onto. You give them hope and a renewed belief in life. It gives them a reason to hang on for another day. Even if that 20 minutes is once a week on your way to dinner or to run an errand.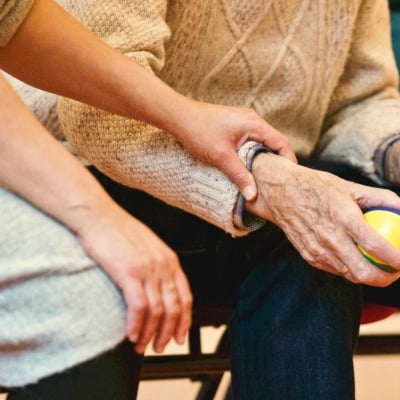 With your act of kindness, you will give their mind a part of the future. Often all an aging person can think about is how their body aches or how they can only walk with help today. These pleasant memories that you built in that 20 or 30 minutes will come to the front of their minds and overtake their obsession with how tough life has become with age.
When I say young, I am talking to all ages between 10 and 70. You can change the world of someone who has given up on life.
When I was working in the emergency room, we had a lady who was 87 come in with a grave condition called a dissecting aortic aneurysm. Her son met her at the hospital. I could tell right away this lady had spunk and a kind heart.
She was in severe pain but was still joking with us. We stabilized her, and she was ready to go to the operating room. She turned to me kissed me on the cheek and said: "I came in here ready to die, but because of you girls showing me love I am ready to live now."
WOW!!! I will never forget how the care and love we gave to her changed her life.
Give life
You can do this also. You can touch the life of someone who is getting older. It took us 15 min to stabilize this lady and get her to the operating room. In those short 15 minutes, she decided to live.
Let a senior be a part of your life so they can watch you run and jump. Let them laugh with you and tell you of their good memories of the years past gone. Of the days when they made white roses of friends, skipped rocks on the water and had a wonder of butterflies and frogs.