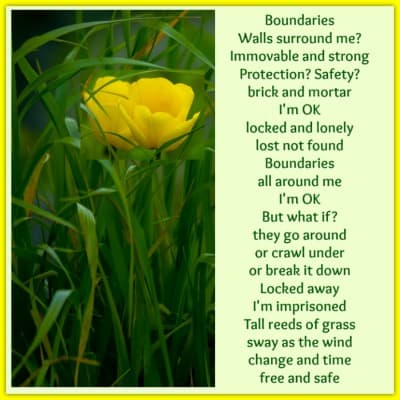 One day not long ago someone was talking about boundaries. They said I have strong boundaries and expect them to be respected. This statement is true. I learned to build boundaries to protect myself from those who want me to live life their way.
There are many dysfunctional people in this world who want you to be dysfunctional just as they are. I struggle to keep my life functional as I am sure you do also. Today a person who has recovered from violence is the majority, and the person who has grown up in a functional home is the minority.
Exclusive Private Facebook Group
How can we help you?
Find out more information about our
exclusive private Facebook group.
I often refer to a person who is trying to change my boundaries as someone who is trying to mow down my barriers or break into my safety zone. And in the past, I have pictured my boundaries as solid walls that I will not let anyone break through.
But this past week I realized that a boundary of brick and mortar is one that will keep me from the world as well as keep the world from me. If you have strong limits such as these, you too will begin to smother and feel lost.
Why? Well because you have to have boundaries that are strong and sway with the wind. You have to have limitations that you are willing to change with time. You change and grow, so the way you keep yourself safe also has to change.
You come across different people who treat you and your parameters differently. So the ones who respect your safety zone are the ones you want to let in. You want to keep the harmful people who do not respect you as an individual from affecting your inner core.
Let's take a moment to step back. I learned about setting boundaries at around the age 30. I read a book that shaped and changed my life.
Boundaries by Cloud and Townsend. I recommend it to everyone who wants to care for themselves.
Boundaries
What does it mean to set boundaries? Here are three quotes from a newer book like Boundaries: When to Say Yes, How to Say No to Take Control of Your Life by Henry Cloud. These quotes will help you understand better what I am attempting to say.
"Boundaries define us. They define what is me and what is not me. A boundary shows me where I end, and someone else begins, leading me to a sense of ownership. Knowing what I am to own and take responsibility gives me freedom. Taking responsibility for my life opens up many different options. Boundaries help us keep the good in and the bad out."
― Henry Cloud, Boundaries: When To Say Yes, How to Say No
In this quote, we see clearly what a boundary is. A boundary allows you to decide who you want in your life and how you want them to be a part of your life. The barriers you place around your safety zone help you to be responsible and have the freedom to feel safe.
If you were a victim of a person who took your boundaries away, you don't know how to set your safety zone. You have to learn to set these parameters to protect yourself so you can grow while you are free from harm.
Walls or reeds of grass
"Things can hurt and not harm us. In fact, they can even be good for us. And things that feel good can be very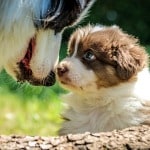 harmful to us."
― Henry Cloud, Boundaries: When To Say Yes, How to Say No
Walls of brick and mortar, strong and tall may be keeping you safe, but they may not be the right ones for you. These solid walls can smother you and keep you from the freedom you will gain from interacting with others.
The walls will keep you in and others out but will not let you breathe in the world and what good things it has in store for you. So to keep yourself safe does not mean to wall yourself off from the world. You may need to picture your wall as a hedge of very tall reed grass. People can go around, in between or they can mow it down. But the tall grass will sway in the wind and allow you to continue to grow.
Changing your safety zone
"It's important to understand that your no is always subject to you. You own your boundaries. They don't own you.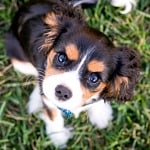 In addition, you can change the boundary if you are in a safer place."
― Henry Cloud, Boundaries: When to Say Yes, How to Say No to Take Control of Your Life
Now you ask how can you keep the bad out and allow the good in if your wall has holes in it. That is where it is vital to understand that you can empower yourself. You can say no. This simple "no" tells others that you are not going to allow them to come through your tall reed grass. If they respect you, they will accept the no and move away from your boundaries.
If they do not accept your "no", then you can change the boundary to a stronger hold. You can make the grass thicker and taller and wider. Which means you can not only use "no", but you can move away from that person. You do not have to let someone into your safety zone just because they pushed their way in.
The safe zone is your world for you to own, be responsible for, learn from, and feel free to be who you are.
Safety antennas
I want to cover one more thing before we move on. I keep antennas on my boundaries. Antennas that alert me to danger and allow me to strengthen my safety zone. I trust these antennas when they start to make a noise in my peaceful, functional world. If they say run or stay away from a particular person I do so.
If they tell me to stay away and I don't listen I reserve the right to run anytime I feel the need. Your antennas will continue to parole your boundaries to keep you aware of impending danger. Your antennas are your instincts.
Recap
I have used brick and mortar and tall reed grass as ways to picture your boundaries. You can use any picture in your mind that may help you stand your ground and let your "no" be "no" and your "yes" be "yes."
The most important part of this poem and article I would like for you to take home with you is: It is good to set boundaries. When you do, please keep in mind that you do so to protect yourself, empower yourself, and set you free.
When you build your parameters, make sure you are not creating them so tight that you can not change them and move them as you see fit. Your freedom relies on this. As you feel safe, you lessen the no and as you feel threatened you strengthen the no.
Do not keep walls up around you that keep you from the world. You will become lonely, and the fear of your past will grow to overtake your life. Let the wind allow your reed grass to sway, grow and change as needed.
If you make a mistake and allow someone into your safe zone and find they are not safe, then trust your instincts (antennas) to guide you and reserve the right to walk away at any time. Do not allow manipulation to keep you in a situation that is disrespectful and fearful.