Have you lost someone you love? Do you feel lost and all alone?
To feel alone and lost are normal emotions. But to have someone say that to you when you have recently experienced the pain of death does not ease the grief. 
Exclusive Private Facebook Group
How can we help you?
Find out more information about our
exclusive private Facebook group.
I want to tell you in this post that how you feel and how you react are your emotions, and no one can feel your pain the way you do. 
I have a very close friend who lost her husband this past week. She is devastated, sad, mad, and hurt. I wrote this poem for her. 
But what will she and you do with the pain?
The Pain Of Death
I lost my mom a few years back. It is a bit different than losing a husband or wife. I took care of my mom on hospice at our home before she passed away. We were very close and would often talk about her death. She and I are both nurses and talking about death, and medical issues were natural. 
I thought I was helping her deal with it and she thought she was helping me. We both agreed that when she died I would be fine because I was prepared. 
That was not a true statement. I was NOT fine. I was lost and sad, and it took me two years to work through my mom's death. 
When you are caring for a loved one, it never seems like a burden. But the care begins slow and builds. In the beginning, I went to my mom's house to help her a couple of times a week. Then it became every day. Then we moved her in with us, and I took off work to care for her 24 hours a day. 
I didn't feel like the time I spent was that much. Why because it came on slow. Until one day my life was consumed with caring for her. No, it wasn't a burden because I loved and do love her. 
But when she passed I was lost. I didn't know what to do with my time. I went back to work, but that was not enough hours in a day to make up for all of the hours that occupied my time caring for her. 
Reasons For Your Feelings Of Loss
One reason is that you have more time on your hands now. It is like having a knitting project that you work on day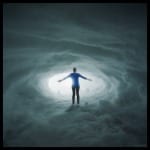 and night to complete by a deadline. Then when you finish the project, you have nothing to do with your hands. Your hands fidget to make up for the loss. 
When the person you cared for is no longer there, your body fidgets from the inside out. You are numb without the tasks that said he or she was still alive. 
Now there is nothing that assures you. Nothing is left. 
Things Don't Feel Right.
There was a time after the death of my mom that I could not be around people. Everyone else was continuing with their life, but I wanted to stand still. I didn't want it to move forward because I might forget who my mom was. 
I felt guilty and knew no one could feel my pain. So, I stayed home except for when I went to work. 
If you are experiencing something like this that makes you think you are losing your grip on life, it is normal. 
You don't have to force yourself to move forward in the beginning. It is OK; you are not losing your grip. You just lost someone who is a significant part of your heart. It will change who you are inside. 
Permit yourself to feel the pain but not the guilt. 
The Steps Of Grieving
There are five stages to grieving. These steps are well known to most of the world.
Denial
Anger
Bargaining
Depression
Acceptance
What is not well known is how you go through these stages. They are always lined out in order. But you will not go through them in order. 
You may go through them all at the same time. Or you may switch from denial to depression in a split second and only be in each stage a minute or a day or a month. 
Our minds are intricate pieces of our body. We have stored knowledge in our brains. We all process that information differently. What I may do with my grief is not the same as what you will do with yours. 
How you handle the pain of loss is not the same as others. It may be that no two people deal with the pain the same. 
For that reason, you must allow your self to feel your emotions and not try to grieve the way someone else does or tells you to. 
What Others Will Tell You
You need to move on
Have you heard people say that you need to move on? 
That one statement always irks me. You don't have to do anything except for healing in your time according to your needs. 
You will be expected to function in the world around you even when you are numb, but you don't have to act like all is fine. You don't have to put on a face because it is more comfortable for others. 
The people around you may be uncomfortable talking to you because they are afraid of death or have not experienced the horrendous pain of death. That is their issue, and you deal with the pain your way. 
Lack of Sympathy
Have you lost a loved one and returned to work within a couple of weeks after they passed? 
And the first day back everyone shows you sympathy but within 3 days people are saying that you are not doing your job?
Of course, you are not doing your job the way you use to because you are grieving. 
The one thing I have noticed in this world is most people think about themselves and not you. You will have their understanding for one or two days then if you don't snap out of it, they have to pick up tasks for you. 
Out of their selfishness, they don't want to do more work. Your co-workers don't want to pick up the pieces while you heal. Because of this, you are expected to get over it in their time frame. 
A situation like this one is tough. If you don't do it in someone else time frame, then there is something wrong with you, but if you do it according to someone else beliefs, then you didn't grieve properly. 
So, to this, I say, be who you are. Do not allow others to dictate how you will handle the grave loss of a loved on. Do not let them make you feel guilty. It is their lack of understanding that is the problem, not you. 
You Are Normal
I can tell you that you are normal and I have said it a few times in this article. I know these words will not change how you feel. 
Instead of telling you this again, it is better if I ask you just to be you. Each one of us is different, and you have to deal with life and death in a way that is conducive to your healing. 
 The Passing Of Time Heals
No one can heal for you. One day you will turn around, and life will feel lighter. As you recover from the emotions of loss, mad, sad, and hurt, you will begin to feel whole again. 
There will be a day when you no longer feel deserted and left behind. Your heart will accept that he or she is no longer in pain, and the relief of this thought will flood you. 
How long will it take? It is different for each person. But time does heal. It is not the actual amount of time, but the number of days it takes to work through the pain and to heal. Thus as time moves forward, you will recover.