Each morning when you crawl out of bed with that first thought of the day do you wonder how your day will go? Well maybe after that first cup or 2 of coffee because I know the thoughts don't even roll until then. But after that do you wonder?
Then you start going over all of the things that took place the day before. But it doesn't have to be this way. You can control your first thought of the day. You can set the tone for how you act and react each day.
Exclusive Private Facebook Group
How can we help you?
Find out more information about our
exclusive private Facebook group.
Let that first thought of the day be a motivation or inspiration to help you grow. Make it a thought that will push you to be a better person. You can do this with these quotes. Just one a day to start your day off right.
Thought Of The Day Quotes
"We are what our thoughts have made us; so take care about what you think. Words are secondary. Thoughts live; they travel far." 

Swami Vivekananda

"You're never too important to be nice to people."

Jon Batiste
"We are shaped by our thoughts; we become what we think. When the mind is pure, joy follows like a shadow that never leaves."

Buddha

"Thinking is easy, acting is difficult, and to put one's thoughts into action is the most difficult thing in the world."

Johann Wolfgang von Goethe

"Embrace discomfort. That's how you'll learn, grow, become strong, and ultimately, become free."

Maxime Lagacé
"I slept and I dreamed that life is all joy. I woke and I saw that life is all service. I served and I saw that service is joy."

Kahlil Gibran
"Practice kindness all day to everybody and you will realize you're already in heaven now."

Jack Kerouac
"Kindness in words creates confidence. Kindness in thinking creates profoundness. Kindness in giving creates love."

Lao Tzu
"More people will like you if you believe that people are good until proven bad."

Guy Kawasaki
"You have to chase your dreams, no matter what. The impossible just takes a little longer. One stroke at a time, one step at a time, the impossible is easy to achieve."

Tori Murden
"Don't keep your dreams in your eyes, they may fall as tears. Keep them in your heart so that every heartbeat may remind you to convert them into reality."

Nishan Panway
"Change your life today. Don't gamble on the future, act now, without delay."

Simone de Beauvoir
"No one is in control of your happiness but you; therefore, you have the power to change anything about yourself or your life that you want to change."

Barbara de Angelis
"Conquer the angry one by not getting angry; conquer the wicked by goodness; conquer the stingy by generosity, and the liar by speaking the truth."

Gautama Buddha

 "Everything is easy if you are crazy. Nothing will be easy if you are lazy."

Anita Bhat

"Don't base your decisions on the advice of those who won't have to deal with the results."

Tim Fargo
"Beautiful things happen when you distance yourself from negativity."

 Anonymous
"Always remember to challenge yourself to go beyond what is comfortable, Be more, create more, experience more."

Anonymous
"Let today be the day you learn the grace of letting go and the power of moving on." 

Steve Maraboli

"Yesterday is gone. Tomorrow has not yet come. We have only today. Let us begin."

 Mother Teresa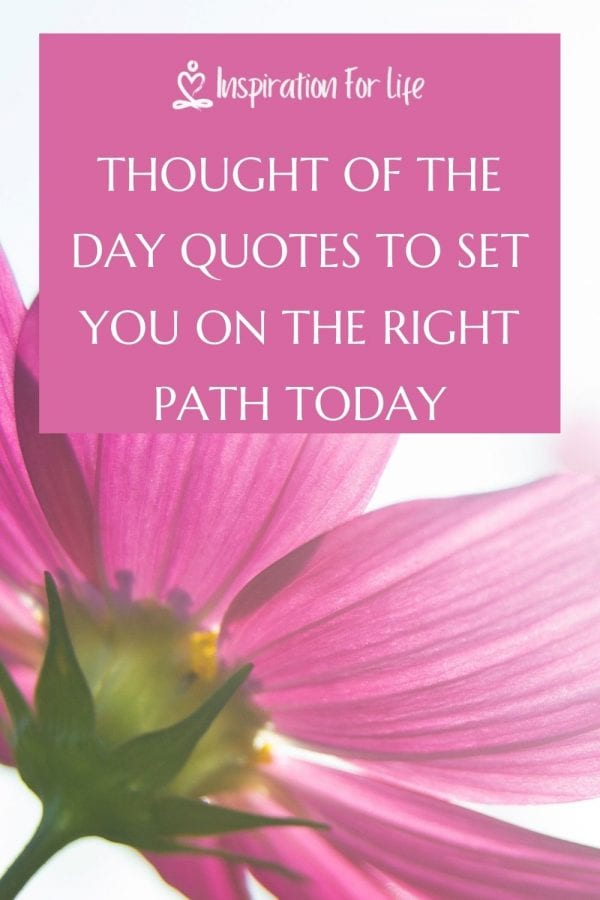 Other quotes you may enjoy:
A Cup Of Coffee and Good Morning Quotes To Start Your Day
20 Inspirational Quotes To Lift Your Mood For The Day Ahead