Four years ago I realized my passion is to write. I started writing poetry in high school in an English class. Back when I was in high school, this was a big part of the English course. Everyone had to write a poem. But I didn't stop. My every waking moment at age 17 was writing. That is when I wasn't dreaming about a boy. It wasn't until forty years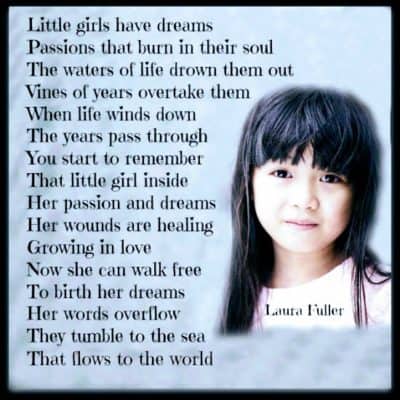 later I picked it back up and wrote this little piece realizing I could then walk free to birth my dream.
Survival
I believe God put it in my heart to write from a very early age. But most of my adult years were spent surviving and learning life. My need to survive and raise my kids became plagued with worry and fear.
Exclusive Private Facebook Group
How can we help you?
Find out more information about our
exclusive private Facebook group.
In my survival, the worries, concerns, and the firm desire to protect myself covered up the urge to write. I had spent the better part of my life keeping myself safe from the abuse of my father and dysfunctional relationships.
Soul words
I was surprised when four years ago these words just tumbled out into a poem. I believe the words were stored away in my soul until it was the right time to put them to paper.
As these words tumbled out, I realized I am a poet. Is there a sincere desire to do something in your life that you have set aside for one reason or another? What has stopped you from fulfilling what you are meant to do? You too can walk free to birth your dream.
For me, it was the need to work through a life of abuse. As I became an adult and moved through life the violence as a child perpetrated my decisions to choose more abusive relationships. When I began writing again, I knew I was to reach the world with the words of encouragement and inspiration. I know there are many abused kids and adults out there who need to know they are not alone. You need to hear what I have to write. I am a survivor, and so are you.
Child Abuse
It is a very horrible infliction for someone else to harm a child for their gratification. And I can't change the decisions of adults who choose to do this. The law and family services cannot change it either. The problem continues to grow.
The abuse of a child will change everything that was set for your life to be, but it cannot break your will or take away your gifts. My gift is to write, and for years the pain and downtrodden self-confidence tried to destroy me. It will try to do the same to you. But you are strong and will overcome it just as I did.
If you succumb to the sorrow and fears of the abuse pounded into you then you, are giving the abuser too much control over your life. That person hurt you once. Do Not let it happen for the rest of your life.
Remember that you did not choose harm, but instead, an adult or very sick person inflicted it on you. Adults make decisions to harm children. Children do not decide to be hurt. Many abusers want you to believe you caused it so they can keep you in their grips.
Pain of abuse can no longer harm you
The damage of your childhood cannot harm you or reach you today unless you give it power. An adult abusive relationship can no longer hurt you if you have left it behind. The harm and unforgiveness come from your mind once you are out of the situation. It rolls in with fear and doubt.
For me, it took many years of working through the horrors to believe I am free, gifted, and can accomplish my destiny. It has taken many years to build self-confidence and self-esteem strong enough to put words to paper and show the world.
I am destined to write to help you
That is why I am here for you. That is why I write the feelings and emotions down. I am destined through my experiences to help you overcome. I want to give you the strength to keep going. I want to let you know that you are no different than I am. And I have made it to high levels in my life. So can you! It is my desire for this to help you so you can accomplish your gift much earlier than I did. So you can become whole and touch the world with your love and talents.
Maybe you have a gift, or perhaps you are destined to stand tall for one or two individuals.  No matter what you are called to do I encourage you to work through the tough times and show who you are. You are a warrior. You are brave. You are courageous. No one can stop you except you. You can walk free to birth your dream.
Will you have failures in life? Yes, you will. Not because you have had a hard life but because that is how you learn. If you choose to learn from your setbacks, you will rise above the hatred that harmed you. You will set an example to those around you.
But most of all you can forgive yourself for with someone else tried to make you believe it was your fault. Now hold your head, my friend. You are no longer in the lion's den. You are the lion.
If you have questions, please leave a comment, and I will be back with you shortly. Also if you have an experience you would like to share please also leave a comment. Your experiences may help someone in need.