One day not long ago, I realized that I do hold grudges. I mean, it was all of a sudden. I said something to my husband, and it was in front of my face. I had always thought I did not hold grudges and was very forgiving. But NOT true. So I set out to find a better understanding of "What is a grudge."
Why do I hold grudges, and what is a grudge? Do I forgive others or hold ill feelings against them?
Exclusive Private Facebook Group
How can we help you?
Find out more information about our
exclusive private Facebook group.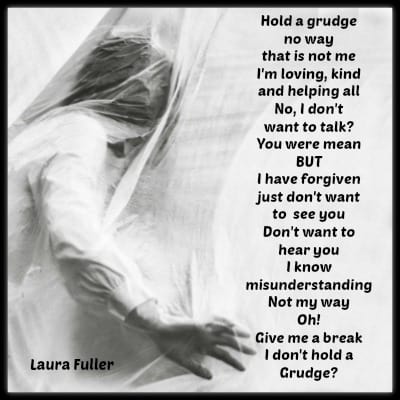 What Is A Grudge?
When I looked up the grudge definition, I liked what the Urban dictionary said best in the first sentence.
"A feeling of anger or resentment that you hold onto at a specific person for something they did that angered you in the past."
Okay, I have been doing this all of my life. I think someone did something to me, and I don't want to see them again. Not only do I want to stay away from them, but I talk about them (to my husband mostly), and I want to make sure he knows why I don't like so and so. I go on with this for years.
It wasn't until recently I realized what I had been doing. But now that I know, I need to figure out why I would justify an act such as this one and get a better understanding of what is a grudge.
Why Do I Hold A Grudge?
I think I am protecting myself against more hurt. My hairdresser couldn't work me in for a hair cut. I was OK with this, but I did have to go to another person. My hairdresser was upset with me and treated me poorly when I saw her. So instead of addressing the issue, I decided I didn't want to talk to her either.
It hurt that she would be angry with me for doing what I needed to do. I became mad at her for being mad at me and so on. You see what a vicious cycle that was.
But on the other hand, I was harmed by a person in my life. It didn't bother them that they hurt me, but the incident forever scarred me. I stayed away from them, but I did need to tell my story over and over. It hurt that the person didn't think they did anything wrong. I was angry that I had to deal with this situation, but they did not care that I was angry. They needed to pay for what they did to me. I was protecting myself.
But I wasn't protecting myself because this person died and could not harm me, but I didn't let it go. I thought that if I continued, that meant they were paying for the wrong they did to me.
Do you see the difference between these two situations? One is harmless, and the other is harmful. I held a grudge for each one to protect myself.
The second part of this definition comes into play when it says: "Normally, People have good reasons to hold a grudge, although sometimes they are irreasonable."
Is There A Good Reason To Hold A Grudge?
"Normally, people have good reason to hold a grudge?" WHAT? Is there a good reason to be unkind and unforgiving? Even in the worst of situations, I am not sure there is. So why do I hold a grudge? Am I beginning to understand what a grudge is?
I believe I am entitled not to like someone. Yes, this is true. But am I allowed to talk about, gossip, and belittle someone because my feelings are hurt? NO! Am I entitled to hate them because they perpetrated a violent crime against me? NO!
One of these reasons is so much worse than the other. But to hold a grudge will harden your heart and not harm the other person. You may justify the animosity by saying if you let go, they will hurt you again. Or you believe you have to keep remembering what happened so you can be on guard at all times.
These statements may be true, except to hold a grudge for any reason at all will harm you. There are other ways to deal with the pain and inflictions of another.
Maybe To Protect Myself
Let's take a step back a minute. You do have to make sure you are safe. But that is not the same as holding a grudge. You need to distance yourself from the person. Do not allow yourself to be in a harmful situation. Run when your gut tells you to and take legal action when necessary.
These are physical. But the safety issue that we usually feel a need to protect is in our minds. You keep remembering the situation, and when you do, you have fear. You have made sure you are physically safe, but in your mind, you still have doubt.
Now is the time to determine if your fear will physically harm you. Is the person directly in an area to cause you harm, or is the fear causing you to have this feeling. Usually, it is the fear that something will happen again. This fear releases a fight or flight response, and you stay on high alert all the time.
When you hold a grudge, you are protecting your mind and feelings from further harm. But the situation is past, and no one is near to hurt you.
What Is The Answer?
My answer is forgiveness. I believe I am getting a better understanding of what is a grudge. It is unforgiveness. When you forgive, you are letting go of all of the situations and giving them to God. You do not forgive someone so that the other person will pay. You forgive for you so that your heart can heal. You are giving up your right to make sure someone else pays for what they did.
Why would you give up your right? Because when you hold onto the pain, hurt, and entitlement, you are causing yourself to lose love, kindness and harden your heart against growth.
Is this hard to do? Absolutely you bet it is. In our minds, we believe that someone needs to pay. They took away your rights. They set up fear in your life and memories that you will always have to live with. They are bad, and you are right.
Here are some scriptures that may help you soften your heart and know that God is in control, and you no longer have to make sure all is well.
Mark 11:25
And when you stand praying, if you hold anything against anyone, forgive them, so that your Father in heaven may forgive you your sins."
When you ask for God's forgiveness, he is willing to forgive you and not remember what you have done wrong. He makes it very clear that when you ask for this forgiveness, you must forgive others first. He is doing this for you. He does not want you to harm yourself more by holding unforgiveness toward another.
2 Corinthians 5:10
"For we must all appear before the judgment seat of Christ, so that each one may receive what is due for what he has done in the body, whether good or evil."
You hold a grudge and do not forgive to make another pay for what they have done to you. God says he will judge all alike. The person who holds the grudge will be in contempt of God's word the same as the one who committed the wrongful act.
Then it is time to let go and let God handle the situation. You may not see the other person punished for the wrong they did to you. You may go to your grave, thinking someone has not paid the price. But the word of God assures that he will take care of it all.
Forgiveness Is Letting Go Of The Grudge
Today is the day for you and me alike to stop holding a grudge. Protect yourself physically but do not try to make another pay for their sins against you. When you do this, you are reigning judgment down on yourself.
Forgive and watch your hard heart melt away. See your world soften, and the stress of what you have put on yourself will be gone forever. This is the true definition of what is a grudge.