Life is full of ups and downs. But I believe you can make a choice. You can choose to be a victim all of your life. Or you can decide to overcome your past and move forward.
Statistics say there is a high percentage of abused people in this world. Or maybe they have just had a terrible life. Either way, you can choose to get past that problem and move on.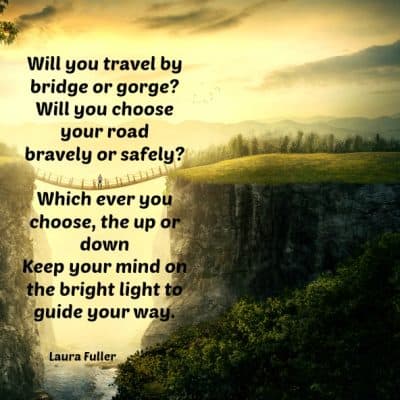 Exclusive Private Facebook Group
How can we help you?
Find out more information about our
exclusive private Facebook group.
I do understand there are real physical issues, and some have a mental illness that you have tried so hard to get the past behind you, but it just keeps coming back up. I do know many studies say these are real.
This part of my opinion will be controversial. I have seen people who take their meds and still struggle, but their struggles are farther apart than those who do not consistently take their meds. I am not writing about this right now. I did want to say this briefly, so you don't think I have discounted mental illness.
I am talking to those of you who can make choices about abuse or harsh times. You who are like me have realized that I can make my life into what I want to if I choose the right path.
The bridge in this picture looks a little shaky and scary. There are times in life we have to take the high road and face our fears. Choosing to cross the bridge of life is at times unsteady. Facing the memories can be frightening.
What if you choose to take the long road and go down the cliff, face the raging waters and back up the other side? What did you accomplish? You can say you traveled the safer route or you took the hard way to learn. But what you did was take the course that was more comfortable.
You have been misused and abused. By taking the toughest path, you are doing what you have always done. You are familiar with danger.
The choice is still yours to make. Do you do what is familiar and stay a victim or do you face your fears and heal? That is a difficult question to answer. Only you can make that choice.
I need to clarify this again. I am not talking about having a cushy life. I am talking about working through what has happened to you so you can heal.
If you do choose to improve your mind and your life, you will need to keep your mind active at all times. Keeping your eyes focused on the light is imperative. It is easy to lose sight of the path and turn back to the past darkness.
There are so many ways today to keep your mind positive and your eyes focused. I choose to follow the word of the Lord. God is my guiding light. I could never have decided to take the bridge if I had not put my trust in him.
Because of him and because I have spent a life time improving and growing out of the darkness I can face my fears and be more positive.
I know you have the strength within you that I do. I know when you set your mind to heal you too can have a happier life. Do Not allow the world to tell you different. Do Not close your thoughts and continue to stay a victim in the changing world. Flow with it, grow with it and become the person God's has intended you to be. Strong, courageous, steadfast and blessed.