Have you ever felt you were talking to a mask? You thought you knew the person, but you find later they are much different than you originally thought. Because of the mask, they wear you now have relationship problems either at home or at work or both.
Some people wear a mask and do not let others know who they really are. Some are insecure others are afraid to let you know them, and then there is the NPD. The narcissist is the one we will talk about here.
Exclusive Private Facebook Group
How can we help you?
Find out more information about our
exclusive private Facebook group.
Why Do They Wear A Mask?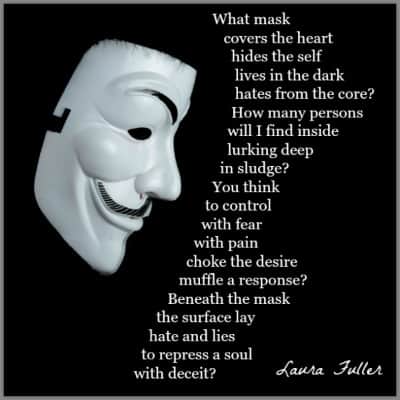 Why do people wear a mask? Is it to hide their emotions or hatred or who they are inside? And do they wear a mask by choice, or is it a learned process?
I am sure what I have to say today will not sit well with some. You may think I have no compassion or believe I need to understand the mind better.
Those Who Know
I am speaking to those who have dealt with masked people personally and have had relationship problems. And I am speaking to those who have had to work with people who wear a mask which also produced work relationship problems.
I am talking about the type of person who manipulates others and are mean and gaslight to better themselves. An excellent example of a person who does this and causes extreme relationship problems is a narcissist.
What Is A Narcissist?
Most of you have heard the term narcissist, but if you have not had a close relationship or problems, you do not understand what someone with this mental illness can do.
There are also those of you in this world that say a person with a mental illness does not know what they are doing, and we need to feel sorry for them. I'm afraid I have to disagree with this thought process. The narcissist knows exactly what they are doing and does not care if it produces relationship problems. A narcissist needs attention and needs to feel important.
Let me talk about what a narcissist is. We will go with the definition first.
According to the Merriam Webster:
A Narcissist is an extremely self-centered person who has an exaggerated sense of self-importance and a person affected with a narcissistic personality disorder.
Narcissistic Personality Disorder: a personality disorder characterized especially by an exaggerated sense of self-importance, persistent need for admiration, lack of empathy for others, excessive pride in achievements, and snobbish, disdainful, or patronizing attitudes.
Out of all of the Mental Health diagnoses, Narcissistic Personality Disorder is the least diagnosed. Why? Because a narcissist believes they are right and do not need help. In a relationship, a narcissist wants to cause problems. It gains the admiration and attention they so desperately need.
Relationship Problems With A Narcissist
Now that we have a better understanding of a narcissist, I want to talk to those who are in a relationship with one, have problems, and want to break away but cannot achieve this. I will refer to this person as he and him for ease of writing, but there are both male and female narcissists.
When you met him (the narcissist), I am sure you thought you met the love of your life. He knew how you felt and what you wanted. He understood you and serenaded you to win you over. He was like you and perfect in every way. It was the perfect relationship, and there were no problems. All was perfect.
After a few weeks or months, everything changed. Everything was your fault, you could do no right, and he put you down all the time, even in front of others. He yelled at you and maybe hit you. The relationship problems began. You were all of his problems.
You tried to do everything he said and wanted, but still, he was not happy. You knew the person you met and fell in love with was inside of him somewhere. You even go so far as to think that he has put on a mask and changed. The way he treats you has to be a temporary thing, and he will come back to you soon. It was all so perfect in the beginning. You often think that you just can't be in a relationship with someone like this person. It isn't you because you were so independent.
Family Relationship Problems
He doesn't like your relationship with your sister and family. He thinks they are trying to harm him. All you want is to have the person back you knew when you first met. So you separate from the ones you love. Maybe he is right. It is better to have peace and not problems in your relationship with him. Not to mention when you talk to your family, or you talk to him about them, it triggers problems. He becomes a raging lunatic.
It has now been two years (for some, it is 10 years or a lifetime), and you have tried to leave him three times, but when you do, he is so kind to you after a couple of weeks. You begin to think you really are causing all of the problems, as he says. So, you go back to him. You go back to the horrible, manipulative person you left.
Another few months go by, and you suspect he is seeing someone else. You ask him, and he admits it because the other woman is good to him. They don't have relationship problems; she loves and understands him. You stay with him because if you do everything right, maybe he will become that person again, the one you met so long ago.

Why Is He This Way?
My scenario sounds horrible, doesn't it? And those of you who have not lived with a narcissist are thinking, "just leave him." But those of you who are with him are thinking, how did this happen? Why does he have such a hold on me? How can I be in a relationship with so many problems?
Let's go back to when you met him, and you had no problems. Everything was perfect. A narcissist can mirror their target. And yes, everyone is a target. He was wearing his mask to draw you in. As soon as he sucked you in, he took off his mask to reveal his true self.
He started talking about your family. They are against him. He makes up stories about your family so you won't trust them. He is afraid of your relationship with your family. He needs full control, and the support of your family takes away his control. He wants you to be alone with no help from family and friends.
At first, he would put you down in private, but his disdain for you grew. Please remember that he never did like or love you. You are a target and a supply for him. He cannot love anyone but himself.
Then he began to put you down in front of others. It is crucial that he looks good. He has to be the number one person in the room. He has to be the life of the party. He leads everyone to believe he does everything, and you are lazy. He tells everyone that you are causing all of the relationship problems in his life.
He has done his work on you, and you feel worthless. You don't have the strength to stay away from him when you leave. The worthlessness is indescribable. No one can feel what you feel or see what you see. A relationship with a narcissist is almost unbelievable.
What Is The Answer?
He has choked the life out of your soul. But what do you do next? You have left him two other times, and you know the third or fourth will be the last. But what is the answer to your problems?
Each time you left him, he kept in contact with him. You felt you needed to because he may become that person you met again. The answer is: To never ever talk to him again. The only way to break the ties of a narcissistic relationship is to cut all ties. He is manipulative and will always draw you back to him. He has to look good, and if you get away on your terms, this will make him look like the problem.
I am a good judge of character. But when I meet a narcissist, I am always fooled. Why? Because a narcissist is the only person in the world, who believes they are perfect and doing what they need to do to survive. They believe it so much they exude confidence when I meet them.
When a person lies to me, I know it. When someone is not honest with themselves, I know it.
But a narcissist believes what they say which makes them more dangerous than the worst serial killer. They take the mask on and off at will. Your relationship problems come and go so fast you are left in a state of confusion.
The Narcissist In The Workplace
If you work with a narcissist, you will see the fun part of them unless you cross them. If you cross a person like this, they will do everything and anything to discredit you. A narcissist has to look good at all times and will do horrible things to you so they can get back on top of their game.
I have seen narcissists sabotage other people's work to discredit them. The narcissist has a following of chosen people who will do their dirty work. I know this sounds insane, but a narcissist is insane. They have to have relationships in all areas of their life that they can control.
What Is The Solution?
There is no reasoning with the narcissist or the people around them who do their bidding. Their protectors do not want to be victims, so don't expect anyone to take up for you. Even if the protector knows what the co-worker is doing to discredit you, they will not go against the narcissist.
You have to walk away, have no contact, do not answer messages, do not engage. A narcissist will use social media to try to engage you. Ignore all of it. If you give them just one second of your time or any response, they will take a significant part of your life. To draw you in is a game to build themselves up. They hate themselves and have no self-esteem, and they believe they can tap into yours if they make you look like the bad person in their relationship.
Years later, the same narcissist you cut off will try to come back and manipulate you all over again. If you have cut all ties, you have healed and can now see the real character of his narcissistic personality disorder. Do not start a relationship with that person again!
When you first meet a person who wears a mask, you may not see through it. They are charming at first, but the mask has to come off at some point. When you see the real person behind the mask, it is best to run and never look back.
A narcissist is manipulative, and when given a chance, he will destroy everything inside of you. Never make the mistake of thinking you can play their game. You are no match for a narcissist who will lie behind the mask of hatred, deceit, and pain.
If you have experience with a narcissist, please share it with us. If you have suggestions on how to walk away please also share them with us. I love comments, and I am here to answer any questions you may have. Please leave any comments in the comment section below.