Yoga, Oh My! I wanted to try yoga for years before I actually started. Back when my self-esteem was at an all-time low, I was so scared to go to a yoga class. I didn't want to look like an idiot. I had no clue what to wear or what I needed to do the right poses. So, for this reason, to make your yoga experience much better than mine, I have put together what you may need in the way of yoga accessories.
Yoga is the ultimate in exercise. Now, this is my personal opinion, but I couldn't resist saying it. I have done so many different kinds of exercises in my life, but yoga helped the most.
Exclusive Private Facebook Group
How can we help you?
Find out more information about our
exclusive private Facebook group.
I listed some items that will make it easier for you to learn or improve your skills if you are already a yoga groupie.
Clothing
Foot Coverings
Mats
Carry Bags
Bolsters
Towels
Bundles
This list can go on and on. I will choose one or two of the best in each category and let you know why I feel it may help. But remember that we are all different and what is good for one may not be a good fit for another. The most important part is just getting rolling and have fun while you reap the benefits of yoga.
Quick Look At Yoga Clothing
A Quick Look At Yoga Accessories
| | | | |
| --- | --- | --- | --- |
| Image | Name | Stars | Buy |
| | Gaiam Yoga Mat – Non-Slip, Reversible, Extra Thick | | CURRENT PRICE |
| | Hugger Mugger Yoga Standard Bolster | | CURRENT PRICE |
| | Non-Slip Mat Topper Yoga Towel with Silicone Grip Design | | CURRENT PRICE |
| | Kindfolk Duffle Bag For Yoga Accessories With Pocket | | CURRENT PRICE |
| | Clever Yoga Kit 7-Piece set, Carry Case, Mat, Towel, Strap, 2 Blocks, Hand Towel, | | CURRENT PRICE |
History Of Yoga
Yoga has a very long history dating back to 3000 BCE. It was introduced to the Western world late 19th to early 20th century.
Today we have yoga that was derived from the Yoga Sutra of ancient times. Ancient yoga was a form of disciplined religion, yet today's modern yoga is designed to bring the mind, body, and soul together for relaxation and exercise.
9 Types Of Modern-Day Yoga
Hatha Yoga: The word Hatha means sun and moon and is a pulling together of opposites. It is closely related to forms of ancient yoga. It is about cleansing, diet, and meditation as well as a good form for the exercise. Attention to your breathing helps connect the mind, body, and soul to decrease stress and enhance concentration, balance, and strength.
Vinyasa Yoga: Known as modern-day yoga, that will focus on poses and techniques. It involves a change in breathing while you move from one pose to the next. Vinyasa is a stretching of muscles and building of strength to increase flexibility.
Bikram Yoga: This is a more modern form of hatha yoga, also known as "hot" yoga. With room temps at 94-104 degrees, you use 26 poses to warm and stretch all muscles, tendons, and ligaments.
Ashtanga Yoga: "Ashtanga means eight;" and is derived from ancient yoga. Your attention is placed on the eight limbs of yoga for internal and external cleansing of the body. You become more aware of your mental and spiritual health to promote a feeling of well-being.
Anusara Yoga: This is another modern form of Hatha Yoga. Anusara helps to energize your mind and purify your body. It increases lung volume and flexibility through stretching. Designed for relaxation and peace of mind.
Kundalini Yoga: This style promotes spiritual healing and a suggested form of yoga to decrease work-life stress by building confidence.
Iyengar Yoga: Yet again, this is another modern form of hatha yoga promoting focus and balance. It teaches posture to improve concentration. This form will increase core strength and flexibility.
Sivananda Yoga: This focuses more on spirituality through meditation and breathing. This form is more directed toward changing habits that harm your body.
Yin Yoga: This modern-day form of yoga increases mental awareness, patience, and concentration.
No matter which type of yoga you choose, the clothing is the same because you want a form-fitting stretchy fit that dries quickly. It is important to have the clothing and accessories to make you feel comfortable in your skin while improving your health and decreasing stress.
Let's Take A Deeper Look At How To Choose Yoga Clothing
OK, so you are going to your first yoga class and don't really know what to wear. Think of the poses you may be doing. One is the downward dog pose. In this pose, you are on your hands and feet with your tooshie in the air. It doesn't sound very flattering, but it feels oh so good.
If your head is down and your tooshie is up, and you have on a loose-fitting top, where will that top-end up? Yep, you got it, down around your neck and nothing covering your midsection. EMBARRASSING!
A good sports bra that is at least a medium hold is a must. If you wear a sexy bra you will end up in a compromising pose with one girl hanging out and the other one crooked. Another uncomfortable position.
When it comes to shorts you want a stretch form fitting pair of shorts or leggings. A too short pair or a lose pair will end up showing all you have to the girls next to you. That is an uncomfortable position for your yoga friends to witness.
Clothing Suggestions

Sports Bra
This sports bra is the perfect choice with a comfortable-moveable stretchy material of nylon/spandex. Medium support that will work for most with removable padding. The torso is slightly lengthened for better-staying power. A soft smooth touch feels superb against your skin.
A sports bra that is at least a medium support will hold your girls in place no matter what pose you are in. Not to mention a comfortable stretch that will move with you.
Bottoms
The perfect combination of polyester and spandex for comfortable movement. Pockets, high waisted and excellent reviews
High-waisted, side pockets, hidden waist pocket and a buttery soft feel. Perfect choice for for a shorter legging with movement and wicking capabilities.
A beautiful choice of length, 8″ or 5″, form fitting moveable shorts with a nice compression tummy panel. 25 amazing colors.
Whether you prefer long leggings, capris, or shorts, each offers the same form-fitting comfortable-stretchy fit. Each option is the perfect choice for your first or your continued yoga experience. No loose-fitting show it all shorts for you.
Tops
This moisture wicking seamless racerback top is the perfect choice for yoga. Stretchy yet forgiving with a longer length. Lightweight and comes in 13 color choices.
A yoga top that is not too lose and not too heavy is a perfect choice to keep you covered in in your downward dog pose.
Foot Coverings
These footies are a patented design by Ozaiic made of 100% gel silicone non-slip material. Cushioned sole with cotton to keep your feet dry and incredible protection against slipping.
Not all who do yoga will want to wear non-slip socks. But if you like to have your feet covered and you have a fear of slipping when in a pose, then these are the perfect pair for your safety.
Yoga Accessories
Some yoga accessories are not necessary and are for your convenience or to make your experience easier. Bolsters will help you hold poses and achieve a safe stretch. A Yoga towel will cushion your mat and prevent slipping.
It is not a must for a bag, but I did find it was an excellent way to keep all of my yoga accessories in one place. There is nothing like walking into a class with an arm full of accessories that fall all over the place. My bag kept it all together.
But a yoga mat is a necessary item. A mat will cushion your knees and guide you where to put your feet and hands with each pose.
Each of these yoga accessories is carefully chosen with high star ratings and reviews.
Yoga Mat
Gaiam offers an extra-thick, lightweight mat in 25 vibrant reversible colors. Your purchase of one mat allows you to tap into an online video library.
Bolster
A strong and firm bolster helps you maintain your holds longer and more comfortably—hand-made cotton covering available in 7 colors to suit your needs.
Towel
Absorbent, soft, microfiber towel with skid-less technology designed to wick away the sweat and keep you rooted on your mat. Perfect for hot yoga. Available in 3 colors.
Bag
Perfect fit to hold larger, thicker mats. Environmentally safe. Thick, durable canvas well made comes in 5 color choices.
Bundle
7 piece starter kit with a mat towel, hand towel, mat, 2 bolsters, carrying bag, and a yoga strap. An all-inclusive complete set for the beginner and novice alike.
Why Should You Trust Me?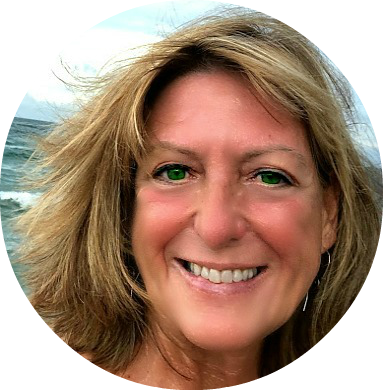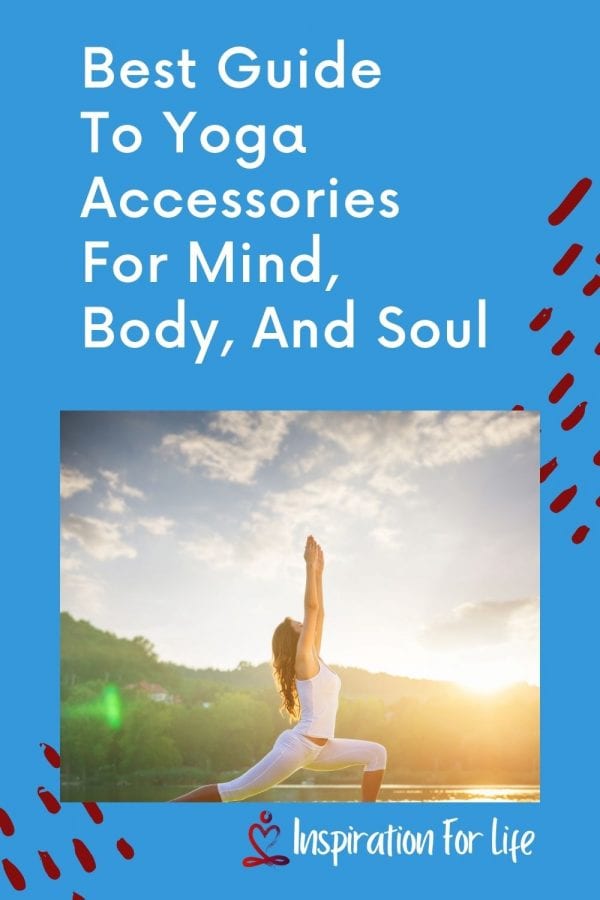 I am Laura, the founder of Inspiration For Life. Why should you trust me? After my experience with an abusive relationship, my insecurities were at an all-time high. I can relate to how you feel and what will help you learn to love yourself.
I have been where you are today. I spent many long anxious days thinking about what I had been through and if I would ever be OK. I did resort to yoga and found strength and peace in the stretches and poses. In today's modern yoga, the poses promote peace and bring your mind, body, and soul together as one. Yoga helped me find the balance I needed to make it through the tough times.