Do you have stuff? I am sure you do. We all have stuff. Are you a hoarder, a keeper, or a minimalist?
I always said in my younger days that I would never collect stuff. It is hard to dust around and find places to display it or store it. But now I need help. I have too much stuff.
Exclusive Private Facebook Group
How can we help you?
Find out more information about our
exclusive private Facebook group.
Help I Have Too Much Stuff
We just moved and downsized our home. We moved everything we owned across the country and required a big semi to move all of our stuff. We gave away stuff for months before our big pack up and go adventure. But when the day to pack the semi came, we still had too much stuff.
I spent a lot of time blaming my husband. He likes to keep everything. He always says, "we might use that someday." I will then remind him that we have not used that item in 14 years, and he will still say, "we might use that someday."
So, we moved everything that we have not used in 14 years to our new home that is 1300 sq ft smaller than our old house.
But wait a minute he is not to blame for all of this as I initially thought. I use to have very little stuff. Over the years, I have collected so much stuff, and now all I can think is, "help I have too much stuff."
It Was My Mom's
When My mom passed, she wanted me to have everything. She lived with us for a couple of months before she went to heaven. She would say, I want you to keep everything I have in your home. So for the past five-plus years, I kept it all. Even if I didn't have a place for it all, I kept it.
When we moved, I didn't want to give up her stuff because it reminded me of her. So we moved all of her stuff across the country also.
Why do we keep stuff?
5 Reasons We Keep Stuff
There are a few reasons why we keep stuff.  Some are more serious than others.
1.      Hoarding
Hoarding is considered a mental disorder. No one knows what the disorder is associated with, but it is thought to be a component of OCD.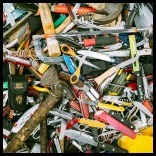 Hoarders will collect the same type of thing repeatedly. For example, when I was a home health nurse, I was required to visit the home of a family that collected boxes. There were boxes from wall to wall and ceiling-high in every room of the house.
This type of stuff is not what I am talking about here. If you have this disorder, it may require counseling or medication.
2.      Memories of a loved one
Have you lost a loved one who gave you things upon their death? Maybe a car, furniture, pictures or trinkets. The thought of giving these items away or selling them feels like a betrayal. You feel like you will lose the one you love if you don't keep their stuff.
I had this issue. I kept everything my mom gave me. Slowly I began to give it away, but when we moved, I packed tons of things she gave me even though I knew it wouldn't fit. I had Blankets, sheets, pillows, dishes, furniture.
3.      Fear of being poor
Where you raised poor? Your parents worked hard but did not make enough money to keep food on the table or toilet paper in the house. When you get the cash, you buy extra "Just in case."
Have you collected stuff over the years just because you had the money to do so? Or maybe you didn't have the money, but what you have worked hard to buy what you need. You can't give it away. What if you became poor again like you were as a child. What if you need it and don't have the money to purchase more.
So you buy extra toilet paper and paper towels and laundry soap and store it away. You wait for that special day when it will come in handy.  Even if you never use it, you still have it "just in case."
4.      Fear of losing everything
Were you in an abusive relationship and had to drop everything and walk away or lose your life? Are you afraid this will happen again, and you will have to start over?
You gather stuff and store it so you will never have to face a day when you have no bed, chairs, or dishes for your home. It doesn't matter that you have three sets of dishes and furniture stored in the garage.
You can't get a car in your garage, heck you can't even walk through your garage because there is so much stuff. You will never use it, but no one can take it away from you.
5.      Creating family memories
You know that one day, your family will grow up and move away with their families. So when you go on vacation,
you collect souvenirs. You have sea turtles, coffee cups from every state, and refrigerator magnets galore.
Every time you look at them, you think of a perfect moment in life, which isn't all bad. It is good to create memories but do you need to buy 5 or 6 things every time you and the kids take a vacation or an outing?
Yes, I did say outing. Once a month you take the family on a picnic in the park. You always have leftover napkins that you have to save to remind you of a particular time. You can't throw them away, "just in case" something happens to you, and the kids need to remember.
"Just In Case"
Too much stuff is OK in moderation, but it becomes a problem when you obsess about it.
I had a few of these problems with stuff: not the hoarder issue but the others. One day as I was unpacking all of the boxes and there was no more room in the house or garage to store the stuff I broke down.
I realized that God brought us into the world with nothing, and He is going to take us out of this world with nothing. We can't take stuff with us to heaven.  He has a table prepared for us, and we will not need stuff.
Why was I keeping all of this stuff? I had to take a look at the situation. And I had to get rid of bags and bags of stuff so that we can live in our house.
Revelation
I began to clear the path to a better way of life that God would want me to live. I threw away cards, furniture, and things that my mom said I had to keep. Was it hard? Oh, yes it was a tear-jerker.
I had to give up the phrase "just in case," and I had to convince my husband that he needed to give up a ton of stuff.
It was that very moment when I realized that when I die, all of my stuff will remain in this house and our kids would come in and wonder why did I keep so much stuff. At that moment, I began to clear my house of stuff. My husband and I agreed it was necessary.
What was I going to do with all of this stuff? How did it benefit me? I had to come to terms with the fact that my mom was in heaven. My husband had to let go of his mom and dad also.
Letting Go
We have to let go of the tangible part of the memories we collected. Our loved ones will remember without the napkins and one million trinkets we collected.
What about your stuff. Is it time to face the demons or memories and let go? Has your "just in case" day come and gone never to return?
What do you think? Do you keep stuff "just in case" you may need it in 20 years?
Please share with us and leave your story and questions in the comment section below. I will return to you shortly.